AAKP HealthLine - Best of 2019!
AAKP's educational webinars, specially crafted for kidney patients and care partners, are watched by thousands of viewers each year! Our most popular and most watched webinars from 2019 are listed below. Each webinar is about 1 hour in length and features both healthcare professional and patient speakers. If you want to watch even more AAKP HealthLine webinars, you can watch any of them at any time by clicking here.
Taking Care of Yourself While Taking Care of Your Loved Ones: Coping Strategies for Kidney Patient Caregivers (from January 2019)
Speakers: Renee Bova-Collis (Patient Services Director, ESRD Network 5), Brenda Taylor (ESRD Rockstars, caregiver to husband and daughter), Ashley Martin (AAKP Ambassador, caregiver to mother who received a transplant)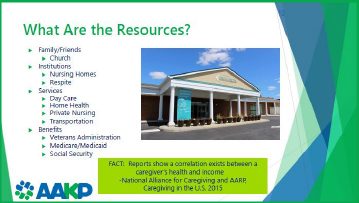 For the Love of Plants: What to Know When Considering Plant-based Nutrition (from February 2019)
Speakers: Jennifer Moore (RD), Dale Rogers (AAKP Ambassador, transplant recipient), Lilly Hernandez (dialysis patient)
Getting (and Staying!) Active with Kidney Disease (from July 2019)
Speakers: Nicole Inglesby (RD), Adrian Miller (kidney patient), Michael Mace (MSW, LICSW and transplant recipient), Nancy Spaeth (transplant recipient)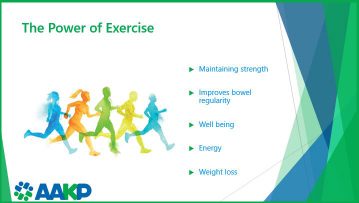 Potassium and Kidney Disease: What You Need to Know (from October 2019)
Speakers: Stacey Phillips (RD), Chardae Sanders (AAKP Ambassador, transplant recipient), Stuart Miller (AAKP Ambassador, transplant recipient)
This webinar was supported by an educational donation by AstraZeneca.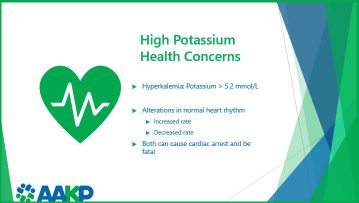 Support AAKP's Healthline
AAKP's HealthLine webinars are supported by donations and educational partners. If you would like to donate to this educational program, click below. If you would like to sponsor an upcoming webinar, please contact us at ekahle@aakp.org.