Gary Green - Executive Director
813-636-8100
ggreen@aakp.org
Gary Green was named the Executive Director of the American Association of Kidney Patients in August 2013. He recommends and participates in board formulation of the Association's mission, goals, objectives and related policies. Gary is responsible for the effective management of the AAKP National Office.
Prior to joining AAKP, Gary worked for the September 11th Families Association - 9/11 Tribute Center, where he served as the Director of Marketing and Development. Gary also worked for the National Kidney Foundation for more than 30 years, serving in many roles including Vice President, Founder and Director of the U.S. Transplant Games and Regional Director.
Gary represents AAKP and speaks on numerous patient education topics to regional and national medical and patient groups.
Diana Clynes - Director of Programs & Services
813-636-8100
dclynes@aakp.org
Diana Clynes is the Program Manager for AAKP and is responsible for planning and executing the Association's programs and events: AAKP Annual Patient Meeting,Medal of Excellence Award Program, AAKP HealthLine and Kidney Beginnings: Live.
She has also represented AAKP on the Education Committee of the Florida Kidney Disaster Coalition and the Marketing and Communications Committee of Fistula First.
Diana joined AAKP in 2005.
Prior to joining AAKP, Diana was the Public Relations Assistant for the Florida Fish and Wildlife Conservation Commission (FWC) Outreach Coordination & Division of Marine Fisheries Offices. Her responsibilities included assisting in the coordination of kids' fishing clinics, representing the organization at trade shows and assisting the media specialist with day-to-day media inquiries interviews.
Diana has prior internship experience with the Tampa Port Authority in their Public Relations Department. She is a graduate of the University of South Florida where she earned a BA in Mass Communications, emphasis in Public Relations as well as a minor in General Business.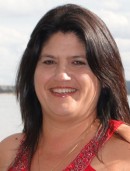 Valerie Gonzalez - Director of Office Operations
813-636-8100
vgonzalez@aakp.org
Valerie Gonzalez is the Director of Office Operations for AAKP. She supervises all activities related to fulfillment of information requests, data entry and telephone inquires.
Valerie joined AAKP in 2005.
Valerie brings many years of office managerial skills to AAKP. Before joining AAKP, Valerie worked for Choice Medical Management Services as a Complex Care Services Specialist. She also served as Office Manager of Troya Engineering and Fabrication, Inc.