AAKP's 1st Annual Fun Walk - December 7, 2019
Join us on December 7, 2019 to walk through the decades to celebrate AAKP's 50th Anniversary! Participate from anywhere! Read about the 3 easy ways to participate: In person (Tampa, Florida), Nationwide or Virtually below!
Register Individually or as a Team! $25 Per Individual Walker in advance (includes a t-shirt and tote bag!) or $35 Per Individual Walker day of.
Please contact the AAKP office with questions about registration. 800-749-2257 or info@aakp.org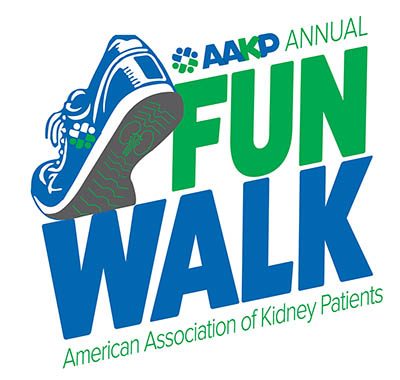 3 easy ways to participate!
In person
AAKP's 1st Annual Fun Walk will be held on Saturday, December 7, 2019 at Lowry Park in Tampa, FL. The event will include a 1 Mile Fun Walk, Exhibitors, Music, and Family Fun Activities.
Schedule of events: Registration begins at 8:00 a.m. The walk will begin at 9:45 a.m. sharp. The event ends at 12 p.m.
Lowry Park is located at 7525 N. Boulevard, Tampa, FL 33604. Meet at Shelter 115.
Nationwide - Global
Not in Florida? Not in the U.S.? No worries! You can still be part of the big day! Register for the walk, build a team of family members, friends, or co-workers and get out and walk on Dec. 7th! Send pictures of you and your team to be shared LIVE throughout the walk on AAKP's social media pages! Post your own pictures and tag us
#AAKPFUNWALK19.
Virtually
If you're not available Dec. 7th or have
limitations that prevent you from being able to participate, whether you're local or across the globe, AAKP has made it easy for you to join in on the fun! Register for the walk independently or build a virtual team and show your support by participating in the social media activities and raising funds to support AAKP!
Additional activities at Lowry Park
If you are joining us for the in person event at Lowry Park in Tampa there will be additional activities on-site! some of the activities include:
Kidney-Friendly Snacks & Water Stations
Tampa Bay Antique Vehicle Association on Display
Dress as your Favorite Decade (60's, 70's, 80's, 90's, 2000's)