High Potassium (Hyperkalemia) Information
Are You O-K+?
K+ is the medical abbreviation for potassium. AAKP wants to help individuals affected by chronic kidney disease understand the importance of knowing your potassium level and how high potassium (known as hyperkalemia) can cause serious health issues.
What is potassium?
Potassium is a naturally occurring mineral found in the foods we eat that helps your body function. Potassium helps your heart beat regularly and your muscles work properly.
What is high potassium?
High potassium, also known as hyperkalemia, is a condition when the amount of potassium in your blood is higher than it should be. High potassium is generally considered to be any level above 5.0 mEq/L (milliequivalents per liter).
How do I know if I have high potassium?
Your doctor can measure your potassium level with a simple blood test.
What caused me to have high potassium?
High potassium can develop for a number of reasons. One of the most common causes of high potassium (hyperkalemia) is chronic kidney disease (CKD). Excess potassium is normally removed by the kidneys. If your kidneys are not working properly, potassium can rise to dangerous levels.
What are the symptoms for high potassium?
Symptoms of high potassium (hyperkalemia) vary from mild to barely noticeable. High potassium is often discovered during routine blood work. However, high potassium can cause serious health risks so it's important to always check with your physician if you are not feeling well or have any of the possible signs of hyperkalemia (especially if you have any of the risk factors for developing hyperkalemia such as CKD).
If I develop high potassium, will it go away?
High potassium can be acute (lasting up to a few days) or chronic (lasting a long time). Acute high potassium may go away with short-term treatment. Chronic high potassium requires continual treatment and monitoring by a physician.
What can I do to treat or manage my high potassium?
High potassium can be managed with diet changes, prescription medication or a combination of the two. Your physician will determine the best course of treatment for you.
HEAlth-RELATED CAUSES OF

HIGH POTASSIUM

The following health conditions may increase your potassium level:
Chronic Kidney Disease

Diabetic Kidney Disease

Heart Failure

Addison's Disease

Trauma from severe injuries/burns
MEDICATION-RELATED CAUSES OF HIGH POTASSIUM
The following medications may increase your potassium level:
Blood pressure medications
Beta blockers and other heart medications
NSAIDS (nonsteroidal anti-inflammatory drugs) like aspirin and ibuprofen
Water pills (used to treat high blood pressure, some lung disorders, or heart problems)
Some herbal supplements and remedies already containing high levels of potassium
SIGNS & SYMPTOMS OF HIGH POTASSIUM
Weakness
Fatigue
Tingling or numbness
Other unusual sensations
Irregular heartbeat
Difficulty breathing
Unable to move (paralysis)
Nausea & vomiting
HIGH-POTASSIUM FOODS
(Avoid or Limit)
Avocados
Bananas
Beans
Chocolate
Milk
Nuts
Oranges
Peanut Butter
Potatoes (try leeching to remove excess potatoes)
Spinach
Tomatoes
Yogurt
LOW-POTASSIUM FOODS
(Enjoy in Moderation)
Apples
Cherries
Coffee
Corn
Grapes
Lettuce
Onions
Pasta
Peas
Pineapple
Rice
Raspberries
Strawberries
Making Sense of the Food Nutrition Label
The Nutrition Facts Label gives important information to all consumers. On a special diet, it can help you identify certain nutrients found in your food and how much of that nutrient it contains per serving. The following hints can help you learn how to label read.
HELPFUL RESOURCES!
Need help cooking low-potassium and kidney-friendly meals? Check out the AAKP Delicious! recipe series! All recipes are specially created for AAKP and include delicious, easy to prepare meals. Each recipe card includes a full nutrient analysis diabetic exchange and indication on what type of patient the recipe is best suited for prepared as-is. Recipe cards also feature helpful health information! Order today at the AAKP Store!
The Academy of Nutrition and Dietetics' Find a Registered Dietitian Nutritionist online referral service allows you to search a national database of Academy members for the exclusive purpose of finding qualified registered dietitian nutritionists or food and nutrition practitioner who is right for you! Visit www.eatright.org/find-an-expert to get started!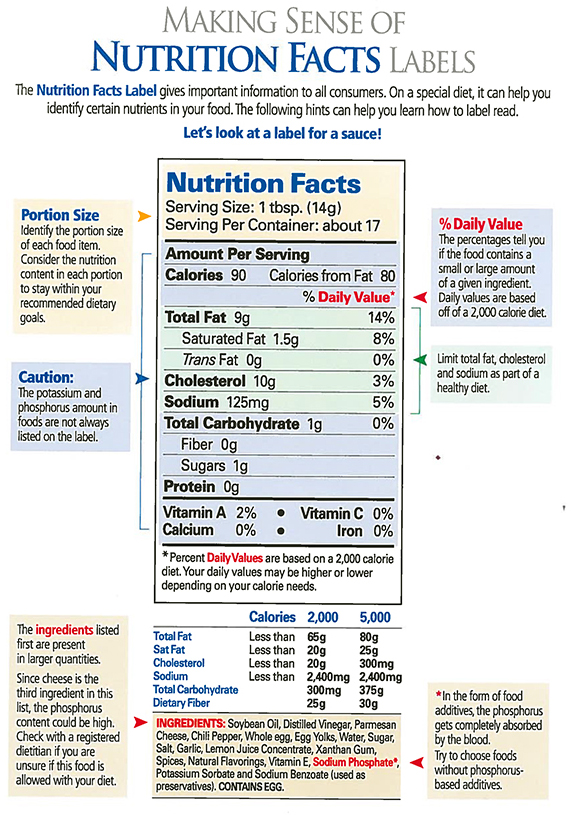 For more information on high potassium (hyperkalemia) and additional resources, visit www.highpotassium.com.
This AAKP patient education web page is supported by an educational donation by Vifor Pharma, Inc. The educational content shown is unbranded and unbiased and has not been determined or influenced by any sponsor(s). It's intended for educational purposes only.