Rozelle Callangan, AAKP Global Ambassador
By Deborah Pelaez, aakpRENALIFE Independent Writer

Rozelle was born with underdeveloped, small kidneys. As a baby, Rozelle suffered from numerous urinary tract infections and was diagnosed with kidney disease. She recounts that when her mom changed her diaper, she would often hold her breath until she turned blue because of the pain.
Rozelle and her family lived in Prince Rupert, British Columbia, where there were no urologists or nephrologists at the time, only emergency care and family care doctors. Her parents had to drive Rozelle two hours to see a urologist. Rozelle's care was transferred to the Children's Hospital in Vancouver when her urologist moved away, a 16-hour drive for the family. The family drove there several times a year.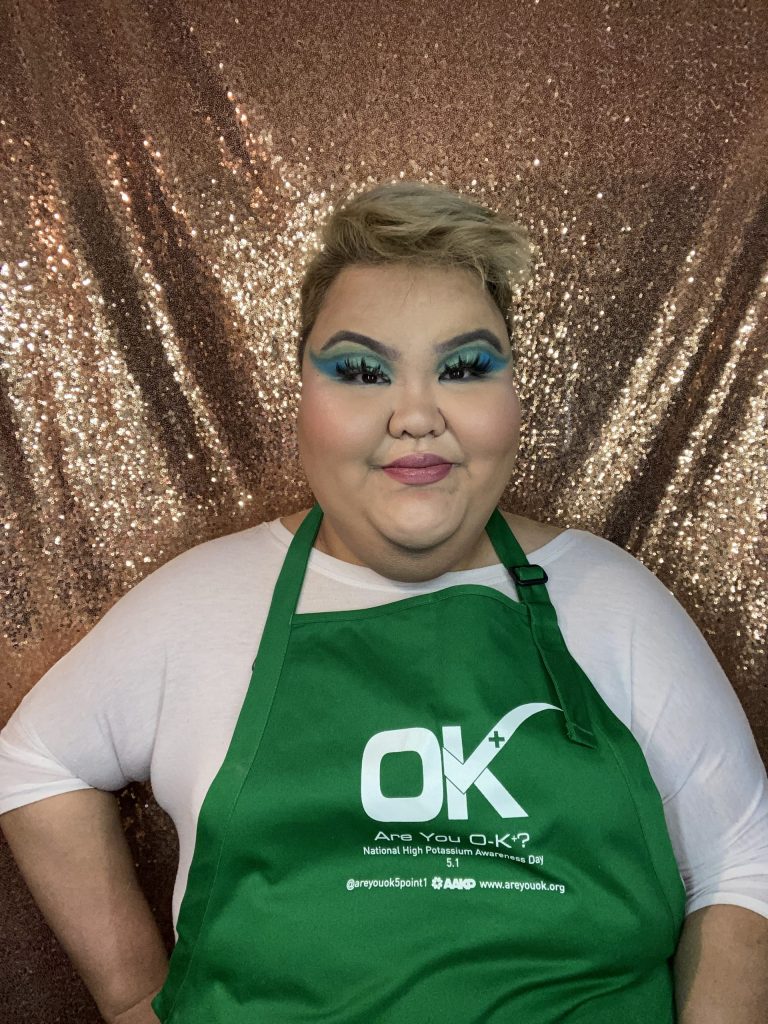 In 2000, when Rozelle was five years old, her family decided to move from Prince Rupert to Vancouver, Canada, to be closer to medical care. This was a big move for the family, who originally migrated from the Philippines to Prince Rupert in the 1990s. Rozelle's father was a tradesman and found work in Vancouver first, then her family followed several months later. Rozelle, her parents, younger sister, and paternal grandparents moved into a small two-bedroom apartment and started a new life.
Rozelle's doctors discovered that her urethra was twisted and scheduled her for surgery. The family thought this would be a cure, however, she continued to have infections. In 2005, Rozelle was diagnosed with type 2 diabetes (T2D) and was put on insulin.
Rozelle shared that she was a "bigger girl" and started to be bullied and teased at school because of her size. Often, she felt on edge. "No one knew I was dealing with health problems inside because I looked fine on the outside. I had to put a brave face on and ignore them," Rozelle told AAKP. Rozelle changed schools several times in attempt to avoid bullying and get a fresh start. She finished her last year of high school in adult education, where she graduated and received her diploma.
After high school, her kidney function continued to decrease. She was in stage three kidney disease, and her kidney function went from 49 percent to 21 percent. She transitioned from pediatric care to adult care, which she recounts being very difficult. "I thought I'd be staying at Children's Hospital forever," she said.
Rozelle became rebellious and reckless due to the transition. "I felt like it was going to high school all over again. I did not know anyone in adult care and it was not welcoming," she said. Being out of her comfort zone and separated from the friends and medical team she had trusted at Children's Hospital, Rozelle stopped caring. "My first day there, I was the only young adult there. I remember being asked, 'Are you here with your grandma?'," she said. Rozelle did not care what anyone thought of her, nor if the doctors liked her. She would try to go in, see the doctor, and get out as quickly as possible.
Rozelle's health continued to decline during this time. She started feeling very fatigued and found it difficult to do anything. Her kidney function would fluctuate between 21 and 15 percent. She often got urinary tract infections from her diabetes, had high sugar levels, and grew frustrated. "Even when I tried to do better, no one seemed to see it," she said.
In 2015, Rozelle started hemodialysis and began to feel better. "Dialysis was a positive note for me," she explained. Rozelle was on hemodialysis for three years, but began to have fistula problems after only a few months, developing nerve damage and carpel tunnel. Her hand and arm stopped functioning, and she was switched to a catheter for dialysis treatments. However, the catheter was problematic because it would get frequent infections, as catheters are prone to. Her doctors lectured her about keeping it clean, and Rozelle was doing her best, but still got many infections and was hospitalized frequently.
"I was 21 years old, going to the hospital three to four days a week for six to eight hours at a time, all while my classmates were off living their lives. It was rough," Rozelle explained. She built trust and support at her dialysis clinic, which helped her through the hemodialysis years.
Rozelle was able to get on the kidney transplant list for a deceased donor. Her mom and sister also tried to see if they could donate, but her sister was too young, and her mom was a caregiver to her dad who had a brain injury in 2011.
One Monday morning, after completing a round of antibiotics the week before, Rozelle got the call and found out that a kidney was available for her. Rozelle was in shock. She told her mom and a few friends, then went directly to the hospital. When she arrived, everyone was congratulating her and only then did it start to feel real to her.
Rozelle had kidney transplant surgery on June 19, 2018. She explained the kidney transplant process happened very quickly; she was transplanted in less than 24 hours after the call. After surgery, it hit her, and she thought, "Holy smokes, no more dialysis. I am free!"
Rozelle is now four years post-transplant and doing great. She said the first year, especially the first three months, were the most critical. She went to the clinic two to three times a week to be monitored and tested, but says everything she has been through was worth it. With a renewed look on life after going through those difficult years, she looks forward to advocating and sharing her story to help others battling kidney disease.
Rozelle as an AAKP Global Ambassador
Rozelle found AAKP through Instagram in 2016. She started using social media to talk about her health issues. She was looking for support and people her age to engage with. She found AAKP Board Member and Ambassador Jim Myers, a social media guru who connected her with AAKP's Erin Kahle to become AAKP's first Global Ambassador!
Rozelle's specialty is the transition from pediatric to adult care, and wants to help young people between the ages of 18 and 30. She does not want anyone to feel alone, but instead have resources and support.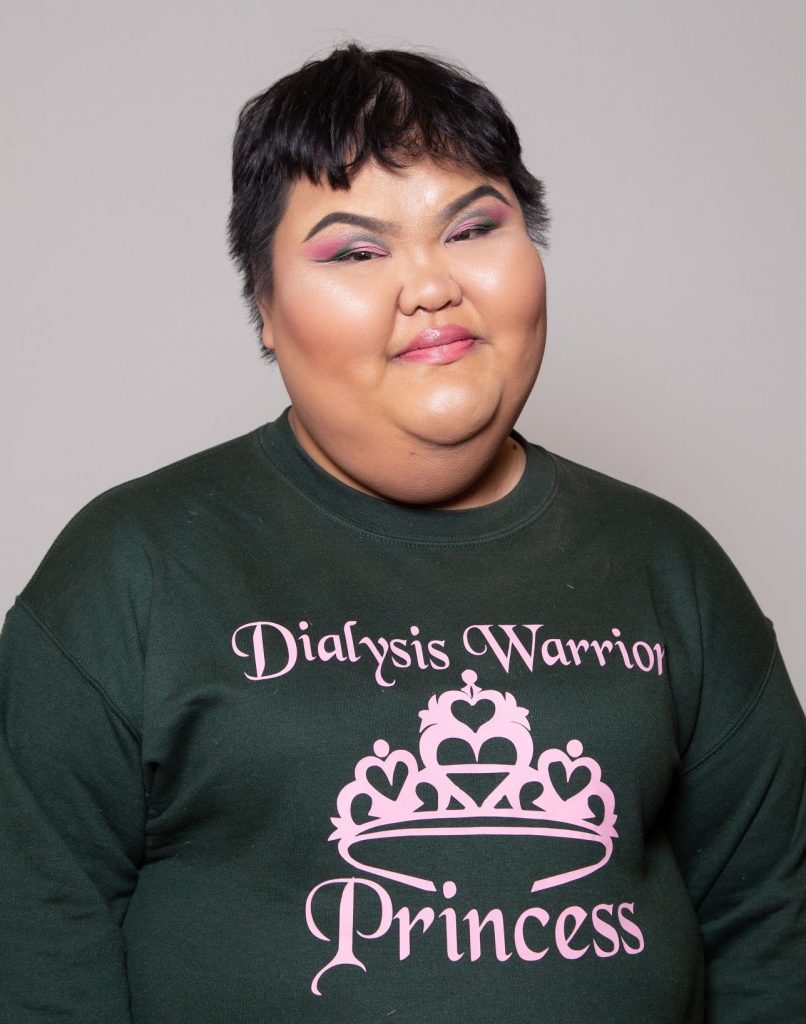 National High Potassium Awareness Day
Rozelle is a great supporter of the AAKP's "Are You O-K+" campaign recognizing National High Potassium Awareness Day (May 1) and encourages fellow patients to learn as much as possible about high potassium and the kidney diet. She struggled with sticking to her kidney-friendly diet over the years. High potassium (hyperkalemia) affected her several times throughout her kidney disease journey. Before dialysis, she had to take powder medication to lower her potassium, and remembers it tasting very bad. Thankfully, she did not have to take it after she started dialysis.
However, one time while on dialysis, she was visiting her godmother who made a homemade Filipino dessert, Banana Spring Rolls. Rozelle ate it without thinking about her kidney diet modifications. Later, when it was time for her to get up and leave for her dialysis treatment, she could not get up. The family had to call the ambulance to pick her up and take her to dialysis. She was told her potassium levels were very high, and recalls it being scary, but was fine after dialysis. After this, she realized how important it is to monitor your kidney-friendly diet, even when on dialysis!