My original diagnosis with stage 3 Chronic Kidney Disease (CKD) was years ago, in 2009, where I was left with kidney damage from prescribed Ibuprofen use, an adverse event from another prescribed combination of medications, and the onset of multiple kidney stones.
In the fall of 2017, my GFR slipped to stage 4, so I decided it was time to take care of my health. I visited with my nephrologist that April, and with her support, changed my lifestyle and diet to be healthier. I retired from my job from University of Rochester Medical Center- Home Care as Director of Education and Organizational Development. I spent my time learning about kidney disease and a kidney friendly diet. I lost weight and felt pretty great. My GFR remained steady for about three years.
My potassium has fluctuated as high as 5.7 and as low as 4.7. I became very educated on what foods are high in potassium. I learned how some foods can have potassium leached (extracting water-soluble vitamins and nutrient from foods items).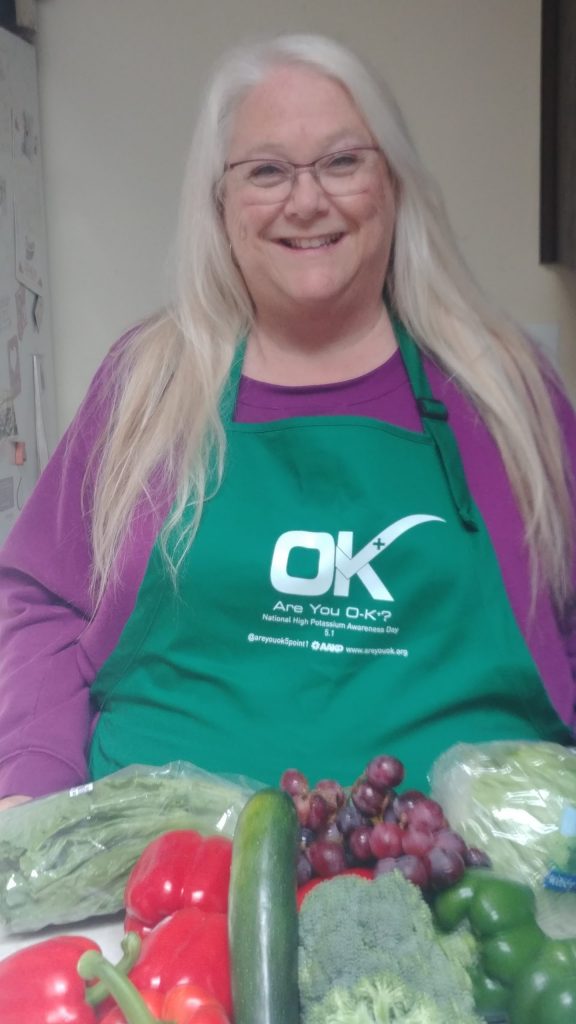 I learned to avoid using potatoes, tomatoes, and other high potassium fruits and vegetables in my cooking and discovered other great alternatives to these items. I also limited my protein choices to chicken and some fish. At first, it seemed very restrictive. But as time went on, I enjoyed the challenge of finding food that were nutritiously good for me but with lower potassium. I even worked with another organization who was sponsoring cooking classes for kidney patients in creating kidney friendly meals.
I love to cook but I wanted the purest, healthiest foods in my diet. I grow my own herbs and some vegetables along with three types of lettuce. I am careful to shop organic when I can. I love experimenting with different seasonings and methods of cooking vegetables. I make a low salt, vegetable Lo Mein that my family now prefers over takeout. I also make my own bread and even experimented with homemade pasta. I make my own broths from scratch which is a great way to monitor sodium content and ensure additional potassium-based additives aren't included. Recently I switched to a whole food, plant-based diet which can get very tricky with potassium. Previously my labs ran between 5.1 and 5.4. Since switching to plant based, my most recent lab showed my potassium at 5. I am curious to see how this plant-based diet will impact my potassium level. It's important to know that when you have kidney disease, there's not one-size fits all diet or meal plan, but with a bit of research, creativity and help from a renal dietitian or your healthcare team, you can find a kidney-friendly diet that works well for your and one that you enjoy!
Jane DeMeis is an AAKP Ambassador and was a speaker for the 2021 National High Potassium Awareness Day webinar: https://youtu.be/DRsoVGAQwG4
Join us this year on May 1 for National High Potassium Awareness Day: www.areyouok.org