Payal Shah was diagnosed with chronic kidney disease (CKD) at the age of 15 after her bloodwork revealed her kidneys had failed. She was rushed to the hospital to start dialysis. She was on hemodialysis for 6 months and peritoneal dialysis for another 6 months before receiving her kidney transplant from a living donor. She has maintained her donated kidney for over 23 years now!
During her year on dialysis, Payal said she learned how to take care of herself. She learned about blood pressure, lab work, how to stay healthy on dialysis, how to be in optimal health for a transplant, and how to sustain a donated kidney. She shared that the knowledge she learned from her social worker, renal nutritionist, and nephrologist helped her get to where she is today.
Social media has also made a big impact on Payal. She is grateful patients have access to so many free educational resources online. Payal enjoys watching The Cooking Doc, Dr. Blake Shusterman, on Twitter – this year's special guest of the AAKP's "Are You O-K+" campaign!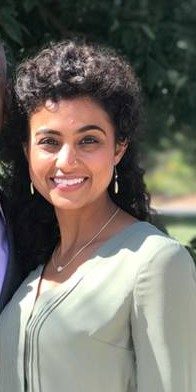 She said that she feels there is a gap in nephrology care and nutrition for transplant patients, and Dr. Shusterman does a great job of filling that gap with sound advice on dietary options for patients. She admires his passion for cooking and the time he spends out of the doctor's office helping kidney patients in such as easy to access way.
Payal tries to always be mindful of what she eats and when she eats. She states, "will-power is 50% of the battle, but the other 50% is just taking care of yourself."
For National High Potassium Awareness Day on May 1, Payal wants to encourage fellow patients to do the things within their control to be in optimal health. Be conscious of your potassium, phosphorus, salt, and hydration intake. As a vegetarian, Payal sticks to a plant-based diet. She said that her mother has been another key influence in her healthy eating habits, by cooking fresh Indian food full of vegetables and spices, including turmeric. After Payal's transplant, she ensured Payal had appropriate portion sizes of fruit and plenty of water with every meal. Her mom did a lot of research and partnered with the dietician to find healthy substitutions/additions to add to Payal's food (for example, substituting cauliflower for white rice).
Payal hopes to use her medical knowledge as a Pharmacist and desire for advocacy as a AAKP Ambassador to share her story and be more impactful.
Learn more about National High Potassium Awareness Day at www.areyouok.org
***Payal's favorite AAKP Delicious Recipe is Curried Lentil Soup. Check out the recipe here.***