Candie Gagne has lived and seen kidney disease from all sides. She is a healthcare professional, a former dialysis patient, and a current kidney transplant recipient. She is a former caregiver to her late husband, Thom, who was on dialysis, and her daughter, Paige, is a living kidney donor.
Candie grew up in a military family. Her father served in the Marine Corps, Army, and the Navy Reserves. Typical of any military family, they traveled and lived in many locations before settling in Pennsylvania. Following in her father's footsteps, Candie joined the Navy in 1978 when she was 17 years old and became a Hospital Corpsman. Her job was to be the connector between doctors, nurses, and the patients. She also performed lab work, worked on patient floors, and assisted in the operating room. Because she enjoyed working in the operating room the most, she decided to enroll in school at the Naval School of Health Sciences in Portsmouth, Virginia, to become a Certified Surgical Technologist. While in school, Candie met her husband, Thom. As a military couple, Thom and Candie were stationed in many places throughout their career including Connecticut, South Carolina, North Carolina, and Japan. Their daughter, Paige, was born at Naval Hospital Beaufort in South Carolina.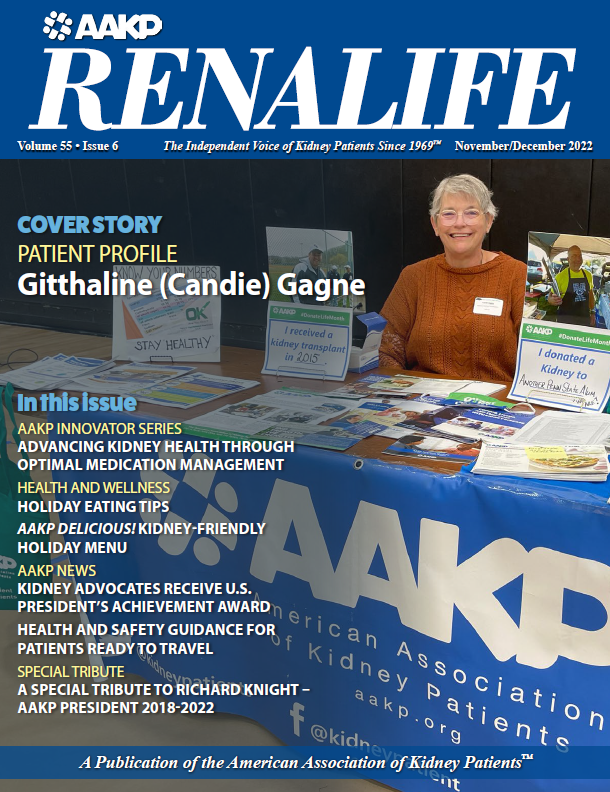 Eventually, they retired in Pittsburgh, Pennsylvania, in 1996. Candie retired through the Troops to Teacher program and taught surgical technology in Pittsburgh Public Schools for three years. She then went back to school to study Theology, Humanities, and Catholic Culture.
In late 2016, Candie fractured her ankle from a fall, but after six weeks of rest, it was not healing like it should have been. Then, in February 2017, Thom found her unresponsive. She was taken to the emergency room. Candie had low blood sugar, and her bloodwork revealed that her Creatinine level was 17, an indication of severe kidney damage. She had to receive emergency dialysis at the hospital.
By April, her kidneys had failed and she started in-center dialysis on a regular basis. Candie shared that, at the time, she was not interested in peritoneal dialysis (PD), and unfortunately, home hemodialysis was never mentioned as an option. She was able to get on the kidney transplant list quickly and was listed in June 2017. Paige got tested to donate to her, but was not a good match.
At this same time, Thom's health was also declining. He suffered from heart failure in 2014. He was also diagnosed with kidney failure in November 2017 and started dialysis. Unfortunately, he was not a good candidate for a kidney transplant because of his heart condition.
Candie explains that both her and Thom's kidney failures came as a result of being stationed at Camp Lejeune, North Carolina, many years prior, where the water supply was found to be contaminated after people started getting sick. Candie was stationed there for one year, where she worked as a surgical technologist and scrubbed her hands multiple times a day with water that she did not know was contaminated. Thom was stationed there as well, but also lived there as a child when his father was stationed at Camp Lejeune. Candie says that his additional childhood exposure is believed to be why Thom's health declined earlier than hers and why he experienced heart failure. She shares there is no other identified underlying conditions or reasons for their health issues other than the contaminated water supply at Camp Lejeune.
Candie received in-center hemodialysis from April 2017 through June 2018. She remembers it being tiring and being exhausted after every treatment. She once went with her family on a trip to Disney World while on dialysis. She says that her family told her she was falling asleep while walking, and she cannot even remember going to the Animal Kingdom, where the family had spent a whole day. She also attended her father-in-law's funeral while on dialysis and shared she was extremely fatigued throughout the service. Her father-in-law was a Retired CWO4 in the USMC. She recalls being sick a lot of the time while on dialysis as well and could not do the things she wanted to do, including playing with her young granddaughter.
Good news came for Candie in June 2018. She was matched to the wife of a married couple in a Paired Exchange Program. The husband had Polycystic Kidney Disease (PKD) and the wife was not a match for him, but she did match Candie. The husband was matched with another living donor who had a relative with kidney disease. On June 22, 2018, Candie and her donor's husband received donor kidneys thanks to the program at the University of Pittsburgh Medical Center Presbyterian and the living donors who were supporting loved ones.
Later, on March 17, 2021, Candie's daughter, Paige, decided to be a living donor to a pediatric kidney patient. The hospital contacted her to see if she was still willing to donate many years after being tested for her mom, and she said yes. Candie and her daughter even ended up having the same surgeon. "I am quite proud of her."
After her kidney transplant surgery, Candie had a few complications. She had gastric bypass surgery years prior and due to that, her body was not absorbing the nutrients it needed to and crystals started to develop in her kidney. The doctors tried various treatments, but they were not working fast enough, so she had a revision of the bypass surgery in 2019. She also was hospitalized for a Cytomegalovirus (CMV) infection. She said the staff at the hospital became like family and friends because she was there so long.
Today, Candie's kidney transplant is doing great. She takes her antirejection medications as prescribed, watches her fluid intake, and she ensures what she eats is kidney friendly.
Sadly, Candie's husband, Thom, passed away on Christmas Eve of 2021. Thom was a retired healthcare administrator and a retired Lieutenant in the US Navy Medical Service Corps. They were married for 40 years. Candie says she is now trying to go with whatever life gives her. For the future, she's looking forward to taking her first cruise in October with her mother-in-law and sister-in-law. She enjoys watching her two grandchildren, ages 8 and 3, and attending their school functions. Plus, she keeps busy with advocacy work—calling local and national representatives and attending senior fairs to hand out information on kidney disease. Candie adds that she just went to Disney again this year and remembers the entire trip this time.
Candie first learned about AAKP from AAKP member and Ambassador Bobbie Reed who, at the time, was supporting her son's search for a living donor (and is now searching for a second kidney donor for her son). Candie attended her first AAKP National Patient Meeting just days before her transplant surgery in 2018. She says that she felt right at home—she remembers Paul Conway, Diana Clynes, and many others who were all so welcoming. She learned a lot at the various educational sessions and now represents AAKP as an AAKP Ambassador.
Candie's goal is to try to make others aware of kidney disease to hopefully prevent them from having to start dialysis and going through what she has. "I love that AAKP is a good mixture of both patients and professionals." She hopes to continue to help to bridge the gap between patients and professionals in her volunteer work.