"Dialysis is my passion; I have 38 years in the field! Seeing my patients thriving and feeling better, whether on home dialysis, in-center hemodialysis, or after having a kidney transplant is my reward."- Shelba Jones
What inspired you to become a dialysis technician?
I always have had passion to help people. When I finished school as a medical assistant, I had trouble finding a job in my field. A friend of mine told me about her job at a dialysis clinic and how much she enjoyed it. I continued my education to earn a bachelor's degree and that same friend again encouraged me to apply to work as a dialysis technician after I graduated. I applied for the job and got it! My passion to help people continues to grow working with kidney patients every day.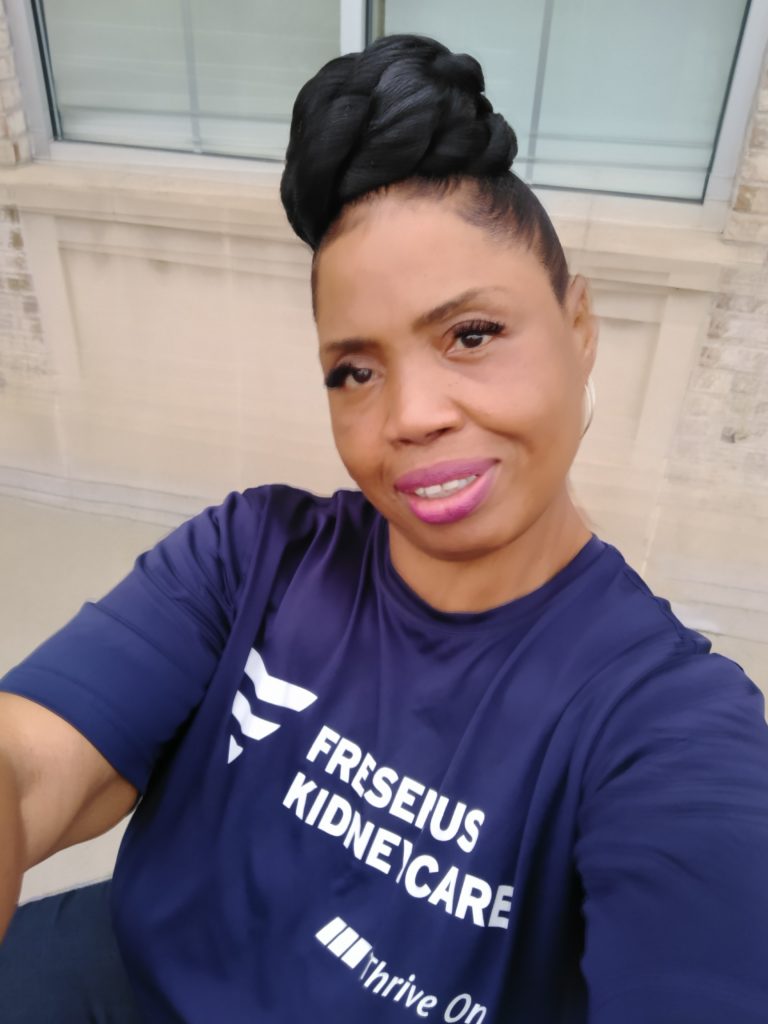 What is the most rewarding part of your job?
The most rewarding part of my job is seeing my patients thrive. Whether they are in-center or doing home dialysis, I see them improve and begin to enjoy life again. I get to see them enjoying their families, spending time with their kids or grandkids, doing recreational activities, and working again. I also get to see many patients get the ultimate gift, a kidney transplant, and that makes me happy.
Understanding that dialysis can also be taxing, I also enjoy making patients smile. If I see them down or sad while taking their blood pressure or monitoring, I will take the time to pause and have a conversation with them, understand how they are feeling, and get them smiling again.
What is the most difficult part of your job?
If someone passes away, it is difficult on everyone. We are like a family.
As a dialysis technician, you have the ability to teach patients every day about their treatment, but can you share with us what your dialysis patients have taught you?
In 1984 when I first started as a technician, there wasn't as much information shared with patients about their dialysis treatments. Patients did not know what they know today, and organizations like the AAKP have done a fantastic job helping fellow patients with kidney diseases understand their condition, their treatment options, and how to be more engaged in their care. I'm continually surprised just how much patients today know about their care. They know about dialysis access, their lab numbers and what those numbers mean regarding their care and how they feel, and many actively pursue getting on the transplant list.
What do you want patients reading this to know about National Dialysis Technician Week?
We love what we do! We want to continue to do our best and be there for our patients. Being diagnosed with any chronic illness is challenging and life changing. As dialysis technicians, if we have the opportunity to make even a small portion of their day or treatment better, that is what we strive to do.
Why is National Dialysis Technician Recognition Week special to you?
It is special to me because we, as professionals, are being recognized. It also opens conversations globally about the role of dialysis technicians and may even encourage others to pursue this rewarding career.
At the National Association of Nephrology Technicians/Technologists (NANT), technicians are able to gather at our conference each year in Las Vegas. Healthcare professionals come from all over the world to learn, earn credit hours, network, and be energized by each other.
During National Dialysis Technician Recognition Week this year, we will celebrate by recognizing all the great work dialysis technicians do for their patients.
Shelba Jones works at Fresenius Kidney Care as a Patient Care Technician (PCT), Preceptor III, and is on the North/South Division PCT Council. Additionally, she is the Northeast Vice President of the National Association of Nephrology Technicians/Technologists (NANT).