National High Potassium Awareness Day is on May 1 (5.1). The SAFE range for your blood potassium level is considered to be under 5.1 (3.5 -5.0 mEq/L). Learn more about high potassium and kidney disease this National High Potassium Awareness Day and get educational resources at www.AreYouOk.org.
"Food choice was the largest struggle for me when I was at the height of kidney disease. It seemed like no matter how many good food choices I made, nothing was good enough and my labs continued to trend out of range. Potassium, phosphorous, and iron were the hardest for me to calculate and manage. In a world where food is the center of life, I would like to see an entire nutritional disclosure (including potassium and phosphorous) across all food products."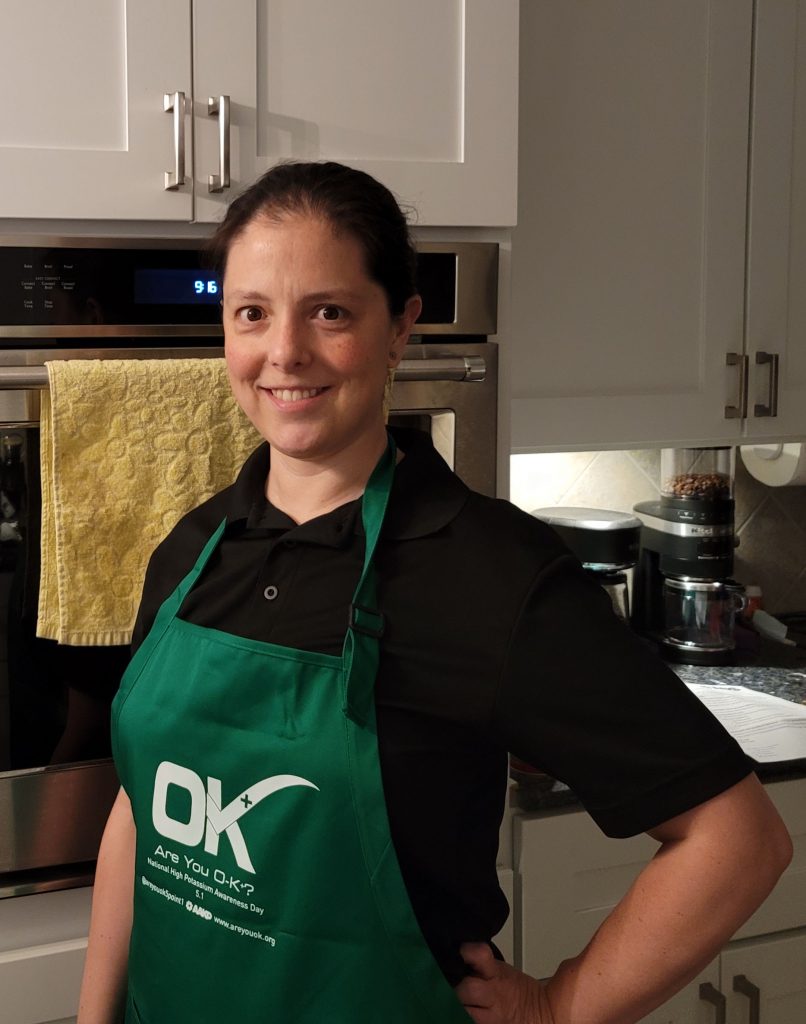 Brandi was diagnosed with kidney disease in 2014. At her annual women's well exam, her gynecologist alerted her that her blood pressure was very high and asked that she follow up with her doctor. At that follow-up appointment with her doctor, Brandi's blood pressure continued to be high, and her lab work showed a high creatinine level, which indicated her kidneys were not working properly. Upon being referred to a nephrologist (kidney doctor), she found out that a genetic condition she was born with and had known about since birth had caused her kidney function to rapidly deteriorate.
With her diagnosis of kidney disease, Brandi began modifying her food choices to be more kidney friendly. However, she was often frustrated and angry with food because she felt very limited with her options. With every meal, she would try to modify her daily eating and be mindful of things that were high in potassium or phosphorus. She recalls picking out tomatoes from salads and substituting cauliflower for potatoes.
In 2016, when Brandi was doing the pre-op bloodwork for her fistula, she was told that her potassium level was very high, and the medical staff debated about not doing the surgery at that time.
When she started dialysis in 2017, she chose to do home hemodialysis four times a week, and it was then that the kidney diet got a little easier for her.
"I started making my own meals and stopped eating processed foods out of boxes and bags as much as I could. One of my go-to snacks was homemade applesauce. I would slice apples, baked them, and blend them with cinnamon. I also bought a heart healthy cookbook and have a delicious rotisserie chicken recipe (seasoned with honey, paprika, garlic, and onion powder) that I still make today."
In 2018, Brandi received a transplant from a direct donation who was on life support. The kidney she received was a perfect match, and she is doing great. Post-transplant, Brandi says she has had more energy and desire to accomplish tasks than she can ever remember having when her kidneys were failing, and she was on dialysis. She also has less modifications needed with her diet.
Brandi encourages patients struggling with the kidney diet to get help from a registered dietitian that specializes in kidney disease and to use the resources available to them, like the members of their healthcare team or kidney-friendly recipes like AAKP Delicious!