AAKP's Innovator Series highlights companies, researchers, and professionals in the field of nephrology committed to making a difference, improving care, and changing the status quo.
In AAKP's latest Innovator Series article, Dr. Montgomery shares his insight on xenotransplantation, the process of grafting or transplanting organs or tissues between members
of different species. He discusses xenotransplanted pig kidneys in recently deceased humans and when he expects live human trials to begin. Dr. Montgomery is the H. Leon Pachter Professor and Chair of Surgery at NYU Langone Health, Director of the NYU Langone Transplant Institute, and a heart transplant recipient. He was recently named by Newsweek Magazine as one of "America's Greatest Disruptors."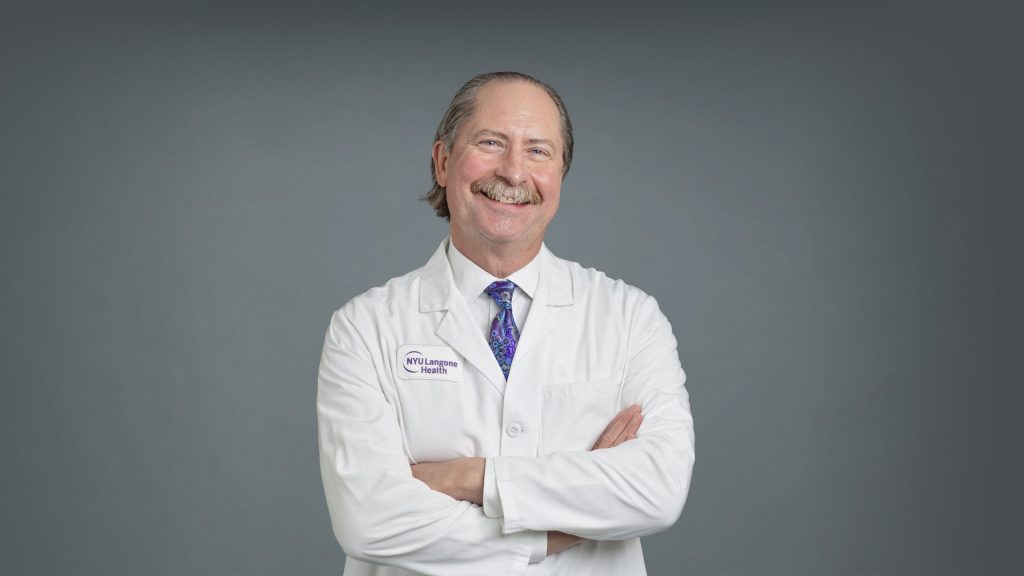 Many people may not be aware, but along with being an esteemed transplant surgeon and researcher, you are also a heart transplant recipient. Can you share with us how this unique perspective of being both a patient and healthcare professional has shaped you as a person, professional, and innovator?
My identity as a patient and surgeon developed in parallel. When I was in my late twenties, I found out that I had cardiac disease, a genetic disorder that would probably result in me having a sudden death or a transplant. I've lived with cardiac disease my entire adult life, and it's had a big impact.

When I was just beginning my surgical career in the late 1980s, I had to have a defibrillator placed. I was training to become a surgeon, and we thought it may end my career. However, I was able to get through training and become what I always wanted to be.

Being a patient has always been a part of who I am and it really has formed the way I interact with fellow patients dealing with their own chronic illnesses and my understanding of what they are going through. I believe I am able to have a clear understanding of what it's like to be faced with critical decisions that affect your future and health. It guides how I interact with patients, my bedside manner, and ability to connect to what patients feel—the isolation, the uncertainty, the feeling like you're losing some control.

In 2018, I had my heart transplant. I had many cardiac arrests that I was resuscitated from prior to that. For me, things only got better after my transplant. In my experience as a new transplant recipient, my life was considerably easier than the journey before transplantation. However, we know that transplantation is not a cure, but a treatment, and some transplant patients have it harder with side effects from medications, and life does not always get easier. Fortunately, in my situation, I have much more freedom and feel so much better now. All the events that occurred before the transplant were the ones most challenging for me.
As a researcher and innovator, we know ideas can happen at any time. Can you share with us when and how the concept of xenotransplantation came to be, and how genetically engineered pigs can potentially be a sustainable, renewable source of organs?
These questions touch on the idea of innovation and inspiration. The immediacy of my disease impacted how I think about medical breakthroughs and the future. Multiple family members of mine are affected by this disease, and the next generation will have to go through something similar to what I've been through. We need to move things along, not wait, ponder, and be fearful of taking risks. I am very aware that I was fortunate to receive a heart transplant. It was not a perfect organ; it was affected by hepatitis C, which at the time was a big deal and a new frontier. But I understand my kids are probably going to face this, and I want it to be better for them.

A lot of innovation that I have been involved in began by trying to increase living and deceased donor organs, which is currently the only source we have for organs. However, that is not a sustainable approach. Through xenotransplantation, the process of transplanting organs or tissues between members of different species, I always saw the potential for an unlimited and renewable source of organs. I am conscious of the future and what my family and people like them will have to face. A lot of the innovation and ability to dedicate myself to making this better has come from that and my experience as a patient.

Xenotransplantation is not something I imagined. It is something that has been thought about since transplantation itself was conceived. My role is to find a new pathway to get this into the clinic and into humans—that is what we did. We have been stuck in studying xenotransplantation in primates, and we do not know how well this will predict how it will work in humans. I am not someone who will wait until everything is perfect. Most patients will tell you they want things to move faster, not slower, and they want options. No one wants to die from neglect because there are no options for them.
When do you expect human trials to begin with pig kidneys? Do you foresee any barriers to the progress?
We've now done two xenotransplantations using genetically engineered pig kidneys in recently deceased humans that were maintained on a ventilator, and both were very successful. These results will really accelerate things. This research gives people renewed confidence that we can do this, and transplanted pig kidneys may just be a viable option for the future of transplantation. Based on current research and these two successful studies, I think the first living human trials will begin in the next year or two.

As far as barriers go, we could spend decades trying to perfect this, and we already have in primates, but we still do not have a full understanding of what's going to happen in humans.
We need to be bold—we also need to be smart, careful, and safe—but we have to be bold. We need to get this going.
In 2019, AAKP launched the Decade of the Kidney™, a ten-year national and global effort led by patients designed to advance the principle of patient consumer care choice and to accelerate access to kidney care innovations (such as artificial, implantable, wearable, and xenotransplanted kidneys) through a broad coalition and networks of patient consumers, policymakers, researchers, and the private sector. As a medical pioneer and research leader, can you tell us how powerful and helpful it is knowing you have an organized force of global patient consumers and kidney community experts actively supporting and following your work?
I think the Decade of the Kidney™ is an extremely powerful initiative. I feel the patient voice has been absent. Patients are now making it clear that the status quo is not acceptable; that we must make advances in care and options. Patients are powerful stakeholders. It's not just up to the medical community–their independent patient voices need to be heard. The medical community is very careful about what they do and less conscious about what they don't do. This is where the patient voice comes in. I do feel that support. Like I mentioned, we have to be willing to take some chances. They can be smart risks, but this does involve risk. We need to be aware that inaction also results in death. That act of omission can be just as powerful, and in some cases harmful, as the act of commission.
Final question: AAKP believes this can reveal a lot about a person. Who is one of your heroes and why?
Thomas Starzl* is probably the person I would point to. He had this vision and clarity of thought that he could advance liver transplantation and save lives. He had a lot of failure along the way, but was resilient and persistent, and knew it was going to work. Despite a lot of criticism, he stuck to it. That is something that I really value.
*Thomas Starzl was an American physician, researcher, and expert on organ transplants. He performed the first human liver transplants, and has often been referred to as "the father of modern transplantation."
AAKP OnDemand Education:
Innovation in Transplantation: Xenotransplantation, featured speaker Dr. Robert Montgomery: https://youtu. be/sgahK4Q20-M
Trending Issue: Innovations in Alternative Therapies to Dialysis (Xenotransplantation), featured speaker Dr. David K.C. Cooper: https://
youtu.be/gjPaTdrOaOU

Supplemental Reading: Roni Caryn Rabin, 2021, 'In a First, Surgeons Attached a Pig Kidney to a Human, and It Worked', The New York Times, 19 October, accessed January 2022 from https://www.
nytimes.com/2021/10/19/health/kidney-transplant-pig-human.html

Read More of the AAKP Innovator Series: You can check out previous individuals and companies featured in our AAKP's Innovator Series at https://aakp.org/innovator-series/.
Robert A. Montgomery, MD, DPhil, FACS, is the H. Leon Pachter Professor and Chair of Surgery at NYU Langone Health, and Director of the NYU Langone Transplant Institute. He received his Doctor of Medicine with Honor from the University of Rochester School of Medicine. He received his Doctor of Philosophy from Balliol College, The University of Oxford, England in Molecular Immunology. Montgomery completed his general surgical training, multi-organ transplantation fellowship, and postdoctoral fellowship in Human Molecular Genetics at Johns Hopkins. For over a decade he served as the Chief of Transplant Surgery and the Director of the Comprehensive Transplant Center at Johns Hopkins.
Dr. Montgomery was part of the team that developed the laparoscopic procedure for live kidney donation, a procedure that has become he standard throughout the world. He and the Hopkins team conceived the idea of the Domino Paired Donation (kidney swaps), the Hopkins protocol for desensitization of incompatible kidney transplant patients, and performed the first chain of transplants started by an altruistic donor. He led the team that performed the first 2-way domino paired donation, 3-way paired donation, 3-way domino paired donation, 4-way paired donation, 4-way domino paired donation, 5-way domino paired donation, 6-way domino paired donation, 8-way multi-institutional domino paired donation, and co-led the first 10-way open chain. He is credited in the 2010 Guinness Book of World Records with the most kidney transplants performed in 1 day. He is considered a world expert on kidney transplantation for highly sensitized and ABO incompatible patients and is referred the most complex patients from around the globe.
Dr. Montgomery has had clinical and basic science research supported by the NIH throughout his career. His academic interests include HLA sensitization, tolerance protocols including simultaneous solid organ and bone marrow transplantation, and xenotransplantation. He has received important awards and distinctions including a Fulbright Scholarship and a Thomas J. Watson Fellowship and memberships in the Phi Beta Kappa and Alpha Omega Alpha academic honor societies. He has been awarded multiple scholarships from The American College of Surgeons and The American Society of Transplant Surgeons. The National Kidney Foundation of Maryland has recognized his contributions to the field of transplantation with the Champion of Hope Award, the National Kidney Registry with the Terasaki Medical Innovation Award and The Greater New York Hospital Association with the Profile in Courage Award. In 2018, he became a recipient of a heart transplant from a Hepatitis C positive donor and has worked to try to promote this practice throughout the world.