The Greatest Gift: Hallie Thomas Shares Her Story as a Living Kidney Donor
By Deborah Pelaez, aakpRENALIFE Independent Writer
What started as a girl's night out with her best friend in downtown Orlando, Florida, turned into the evening Hallie Thomas would meet her future husband. She remembers being attracted to Richard's big smile and their memorable dance to Frank Sinatra, where he twirled her as the music played and dipped her at the end of the song.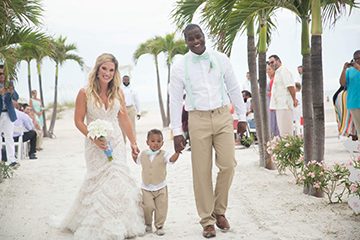 As they dated and then became engaged, Hallie learned that Richard had struggled with his health since he was a teenager, and he had a huge health binder with all his medical records. There had been several serious health scares over the years where Richard was hospitalized and the doctors could not determine what was wrong. His family was told to say their goodbyes to him on more than one occasion. When he was just 21 years old, he had to have both hips replaced due to side effects from his medication treatment. Eventually, after many misdiagnoses, he was diagnosed with crescentic glomerulonephritis (crescentic GN), which he received chemotherapy to treat. Later, he was also diagnosed with lupus. Hallie shares that Richard was very mindful about his conditions. He knew that lupus affected his kidneys and he paid extra attention to his diet. Eventually, he was able to get his health under control for a while.
KIDNEY FAILURE
In spring 2018, while Hallie and Richard were preparing for their wedding, Richard started feeling fatigued and rundown. He told her that he made an appointment with his nephrologist. During his follow-up visit to review his lab work with his nephrologist, Richard learned he was in CKD stage 5—kidney failure.
Hallie says she and her best friend were making the wedding bouquets when Richard broke the news. He told them the doctor had said he needed a kidney transplant as soon as possible. Both Hallie and Richard were in shock. They knew he had kidney damage but could not believe it had progressed so fast. Hallie and Richard did not know that much about the stages of kidney disease or kidney transplantation at the time. Eager to help Richard, Hallie started learning as much as she could about kidney transplantation.
Richard and Hallie had a beautiful wedding in June 2018 as planned with their young son, Talan, at their side. Richard's declining health did not stop him from getting married, honeymooning, being a dad, or continuing to work full time.
As the couple learned more about kidney transplant options, Hallie was tested to see if she was a direct match for Richard, but she was not. It was at the AdventHealth Transplant Institute's orientation where Hallie first learned about paired kidney exchange. "No is not an answer for me; it's not in my vocabulary. I heard about this program and saw this as a way for me to help," Hallie said.
Meanwhile, Richard's health continued to decline. He was admitted to the hospital and his doctors thought he had pneumonia. However, they quickly discovered that his glomerular filtration rate (GFR), which is a clinical measure of how well the kidneys are filtering (working), had dropped to a very low level. Richard needed to start dialysis immediately.
Richard was on in-center hemodialysis for about one year. He went three days a week, four hours at a time. He continued to work full time, leaving the house at five a.m. and going straight to his job from dialysis.
During this time, Hallie got tested for the paired kidney exchange program. The initial part of the process was online followed by two full days of testing, with a lot of blood work. Hallie recalls that the transplant coordinator guides you through the full process. Hallie encourages anyone who is interested in donating to get their questions answered. She says that she asked lots of questions, such as what her scar was going to look like, where it would be located, and how long the surgery would be.
Hallie remembers that Richard seemed reluctant to the idea of her donating a kidney through the paired exchange program. He was thinking of their son, Talan, expressing the concern that something would happen to Hallie during surgery. But Hallie says she prayed about it a lot and read about it, finding comfort in other people's stories of organ donation. "I was at peace with what I was doing," Hallie told AAKP, explaining the hardest part was giving blood. "You have to be mentally stable, prepared that it is a process, but it's not something that people can't do. We're given these two kidneys to have an opportunity to share."
A MATCH WAS FOUND
On July 28, 2020, in the beginning of the COVID-19 pandemic and just as Richard was starting home dialysis training, they received the call that there was a match for them through the paired kidney exchange program. As they went into their pre-op appointment, Richard's blood pressure was very high. It was so high that having a stroke became a possibility. He was asked to leave and go to dialysis to get his numbers down so the operation would be possible. As Richard was about to leave for dialysis, the transplant coordinator told the couple that this paired exchange was very special. "It's basically a miracle," they said. Hallie agreed, saying that she could just feel that something big was happening.
SURGERY DAY
On August 19, 2020, Richard and Hallie went in for transplant surgery. Hallie's and her recipient's (the patient she was donating to) surgeries was up first. Hallie says she was so excited when she found out that her surgery was happening in the pediatric wing. They wheeled her through hallways decorated with bright colors and rainbows right before surgery.
Richard and his donor had surgery next, and all four surgeries were a success.
Richard and Hallie had separate rooms on the same floor, across the hall from each other. Hallie was discharged on day three, and Richard was discharged on day five.
After surgery, Richard and Hallie would learn more about their donor family. Hallie had donated her kidney to a four-year-old girl named Emery, and that little girl's mother, Jamie, had donated her kidney to Richard. It was not until months later, when AdventHealth arranged a reunion meeting, that Hallie was able to learn more about their experiences. Hallie says she asked the doctors about Emery every chance she could. "The only heavy coat I wore in all of this, if I am going to do this, is that I want the kidney to stick, not for me, but for her. Every child deserves to be healthy."
POST-TRANSPLANT
Post-transplant, Richard and Hallie both received follow-up care. As a kidney recipient, Richard had clinic hours to make sure his new kidney was functioning. At the transplant clinic, the healthcare team reviewed lab work and tweaked medications. Richard's lab numbers were fluctuating. He did have a kidney biopsy to make sure everything was okay, and it went well.
As a living donor, Hallie also had follow-up visits to make sure her remaining kidney was compensating. Hallie says she was home from her work as a teacher for about four weeks. She had regular follow-ups the first six months and will continue yearly follow-ups for two years. "There's really nothing in my life I can't do because I donated." Hallie says she is mindful of having one kidney during contact sports. She continues to eat healthy and drink a lot of water but has no real restrictions.
MEETING JAMIE AND EMERY
A few months post-transplant, AdventHealth Transplant Institute brought together Richard, Hallie, Jamie, and Emery to capture their meeting on camera. Their story is unique for many reasons, including the fact that all four of them live in Central Florida, within 45 minutes of each other, and registered for the paired kidney exchange program at the same transplant institute. For this first meeting, COVID-19 protocols were in place, and they had to keep their distance. However, Hallie says that the joy of meeting each other for the first time was surreal. The families continue to stay in touch and have even gotten together on their own. Hallie says that Talan and Emery are the same age and have become friends. "This has been a miracle, and everything has panned out just right," Hallie says.