Nate grew up watching his father live with chronic kidney disease (CKD). In 2014, when Nate's kidneys failed at age 22, he had already learned a lot about the living with kidney disease and the negative effects of not following a kidney-friendly diet from his dad. His dad did not buy fruits or vegetables because he could not afford them and consumed mostly packaged foods. Nate learned as much as he could about how to eat right. He eliminated processed foods from his diet as much as possible. He also included more fresh fruits and vegetables. He learned what fruits and vegetables can be safe for kidney patients and the importance of portion size.

When Nate's kidneys failed, he began in-center hemodialysis, which he received for seven years. During that time, he discovered a desire to try and live as fully as he could, despite his diagnosis. Nate decided to quit smoking, a habit he picked up in his teens, and shares that was the first really hard habit to break but very important for his overall health.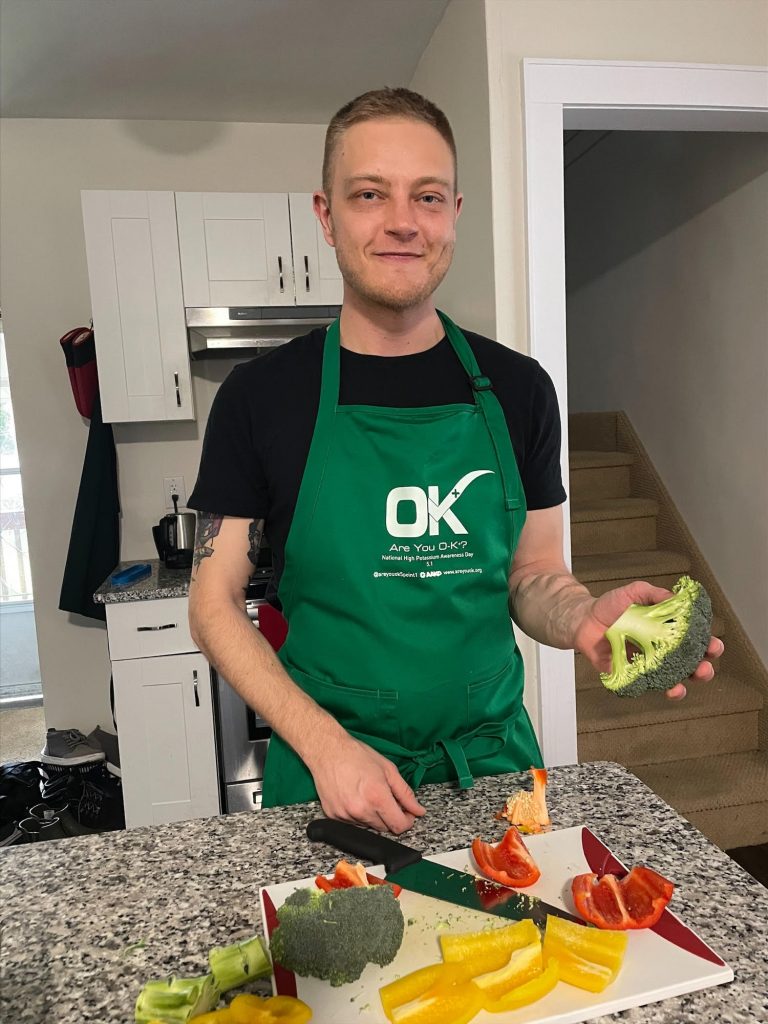 To live his best life, Nate also started to become more physically fit. He knew how important an exercise routine was to overall good health, so he decided to start running. As Nate got more and more healthy, he began to experience a lot of positive change in his life, and he found himself dreaming of inspiring other kidney patients to take this step in their lives, too. He had the thought about running a marathon. Nate says that by running a marathon, he wanted to advocate for kidney disease awareness and show kidney patients that you can do hard things, including run a marathon while on dialysis. Nate trained hard and worked closely with his healthcare team. He had to eat and drink differently as a runner, while also being mindful of the dietary modifications his kidney disease imposed on him. It was important that he replenish the water from the sweat he lost while running. In addition, he had to eat the right foods. Potassium and phosphorus are needed for exercise, so it became a fine balance. Nate said he still avoided high potassium foods, like bananas and tomatoes, but made sure that he still had some potassium and phosphorus in his diet. Some of his favorite foods were oatmeal, eggs, and apples with bit of peanut butter.
On October 20, 2018, Nate ran the Detroit Free Press Half-Marathon. A year later, on October 21, 2019, Nate ran the full Detroit Free Press Marathon. The marathon's course went across the Ambassador bridge, and through an underwater tunnel. Nate shares that he had a team of people supporting him. He was also able to raise money for kidney disease awareness*.
Running a half marathon and a full marathon were not Nates' only accomplishments during this time. He also enrolled in and graduated from college, became a passionate patient advocate through local and provincial volunteer organizations, and took up yoga, which he eventually became certified to teach.
Then, on May 12, 2020, after many years of accomplishing amazing things while on dialysis, Nate received his kidney transplant. Getting a kidney transplant has proved to be a difficult transition for Nate. He received his transplant during the COVID-19 pandemic and had to take many precautions. He has also dealt with depression post-surgery. After so many years on dialysis, as a new transplant patient, Nate says that it can be difficult to navigate how to transition to life as a transplant recipient, all the post-transplant care, and not having to go into the dialysis facility three times a week as he did for so many years. It drastically changed his daily routine, but ultimately in a good way. Nate is currently working as an Education Assistant, teaching yoga, and has plans to go back to school in the fall to further his education. Nate is a dedicated volunteer with different kidney organizations like the AAKP and strives every day to make a difference in the kidney community.