Chef Oliver Hale, better known as "Chef O," is a retired celebrity chef, having professionally cooked for over 48 years. Throughout his career, he has made 315 cooking shows and nine video awards. For about 21 years, he has also been hosted educational cooking demonstrations for kidney patients. Chef O is a two-time kidney transplant recipient and a decorated athlete, having won 34 national and international medals at the Transplant Games in tennis, track and field, and fencing.
Chef O's Kidney Journey
Chef O's kidney story begins in his 30's as part of the United States Tennis Association Travel Team. He was winning all his matches during a weekend five-state tournament in Columbus, Ohio, until in his last match. It was at least 90 degrees, but he had no sweat coming off his body. He also started experiencing stomach pain.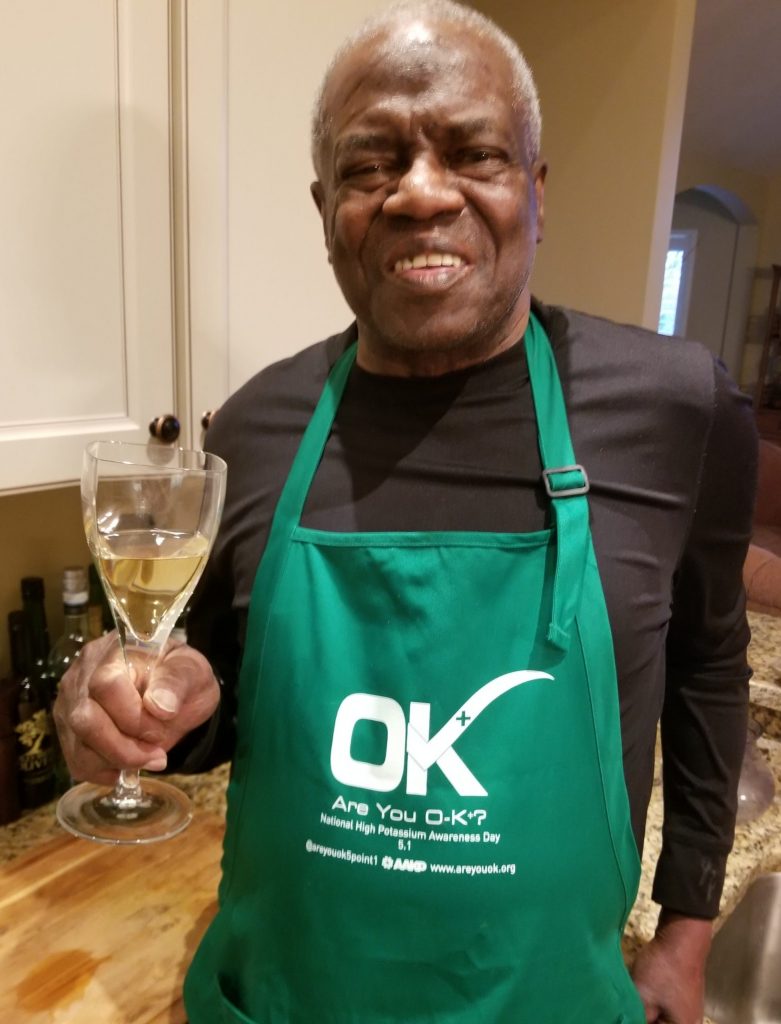 Two weeks later, Chef O went to the emergency room for his stomach pain and was told his kidneys had failed due to high blood pressure (hypertension). His doctors told him that he would probably have died overnight if he had not come in that day. Chef O had his last health physical two years prior and did not have high blood pressure or any kidney-related issues. However, in those two years since, he experienced a lot of stress and was not taking care of his body the way an athlete should. He was so busy with life that he never noticed his urine and sweat decreasing over time until his last tennis tournament. He immediately started hemodialysis at the hospital, doing dialysis two days in a row for five hours each treatment to get his body where he could be released and start in-center hemodialysis.
Chef O continued to do hemodialysis in-center for two years. He received his first kidney transplant from a deceased donor on January 29, 1985, which lasted 23 years. However, on December 7, 2007, his transplanted kidney failed, and he went back on in-center hemodialysis. He received his second kidney transplant on January 13, 2012. This year, Chef O celebrated the 10th anniversary of his second transplanted kidney.
Tips for National High Potassium Awareness Day
As a kidney patient, chef, and AAKP Ambassador, Chef O supports National High Potassium Awareness Day. He knows how important it is for kidney patients to live a healthy lifestyle, he but prefers not to use the words "kidney diet" because the word "diet" can be associated with failure. Instead, he encourages kidney patients to eat healthy meals as part of their regular kidney routine.
Chef O's Jazzed Up Rice
Chef O says there are many ways to jazz up basic staples, like rice, that are safe for kidney patients to eat. Below is an official Chef O recipe on how to safely jazz up rice to fit into a well-balanced kidney meal.
Recipe:
Cook the rice of your choice (white, brown, long grain, basmati, jasmine). This recipe calls for ½ cup but make extra rice and save some for another day.
After cooking the rice, rinse it off to remove extra starch.
Then, add some flavor by choosing one of these methods:
Mix ¼ cup of cranberry juice and a ¼ cup of dried cranberries. Then, sauté the mixture with ½ cup of cooked rice.
Mix 2-3 chopped cherry tomatoes and ¼ cup of vegetable juice. Then, sauté the mixture with ½ cup of cooked rice.
Use 1/4 cup of mandarin oranges canned in natural juices (not regular oranges), and sauté them with the ½ cup of rice.
Want to add protein to the rice mixture?
Add 3 oz. of cooked fish such as halibut, tuna, or cod. To prepare, sauté in a small sauté pan with a little olive oil. There is no need for EVOO—just regular olive oil is fine. Do not use grease. Cook on medium heat until brown, then flip.
Next, add fresh veggies!
Serve with steamed veggies (don't boil your veggies - this would take out the nutrition and vitamins). Top your veggies with a small amount of low fat by adding unsalted butter. Sprinkle with a small amount of a salt-substitute seasoning. Check the nutrition facts label as some salt substitutes may be high in potassium.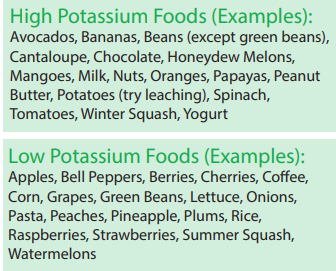 Chef O's Simple Cooking Tips
Learn to make your own vinaigrette dressings and sauces. Stop eating Ranch, Thousand Islands, and other creamy store-bought dressings. Making your own will be much healthier for you. Here are some resources: https://kidneyrd.com/kidney-friendly-balsamic-vinaigrette/ ; https://www.davita.com/diet-nutrition/recipe-collections/delectable-salad-dressings-for-kidney-diets
Learn where to find recipes for kidney-friendly meals. AAKP is a great resource. Visit AAKP's kidney-friendly recipes webpage for more resources.
Stop watching cooking shows. These shows are not for people living with kidney disease and use too much salt.
Don't use shortening or vegetable oil. Instead, use regular olive oil. It may be more expensive, but you won't use a lot, and it is much better for you.
When shopping, read the food labels. Look at sodium, phosphorus, and potassium amounts. Sodium and other additives are often added to make food last longer. Fresh and frozen vegetables are best, but if you buy canned vegetables, rinse them off to get rid of all the solution that was added to keep them fresh, which is not good for you. Also, be sure to be aware of portion size. Even the best foods for you may be harmful if consumed in large quantities. Learn more about food labels on page two of AAKP's Potassium Fact Sheet.
Remember that every kidney patient is different. Speak with your healthcare team or a kidney dietitian to learn your target amount of daily nutrients. On average, kidney patients recommended daily serving of potassium is 2,000 mil/day. It's important to keep track of what you are eating. (see chart).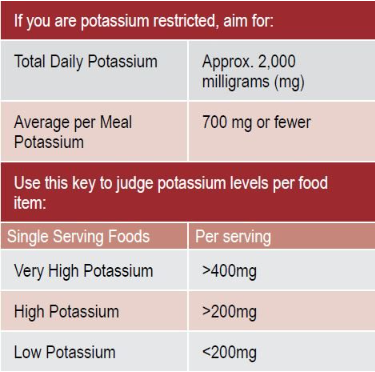 Chef O's passion is helping fellow kidney warriors. He spends his down time competing, judging competitions, speaking, writing recipes, doing healthy cooking demo, TV and radio interviews. His pre-COVID-19 dream was to travel the U.S. in an RV and stop at dialysis centers to give patients cooking demos. He hopes to still be able to do that one day soon.
Connect with Chef O on Facebook at: https://www.facebook.com/chef.o.hale
Learn more about National High Potassium Awareness Day and get educational resources on high potassium at: www.areyouok.org