David's battle with kidney disease began in high school in Highland Park, New Jersey. He dreamed about following in his older brother's footsteps of playing football in high school and college. During his routine sports physical, his doctor said there was protein in his urine. David remembers thinking that too much protein in his urine must mean that he was eating too much meat and protein-filled foods. He was a linesman and the team was fed well. David did not really understand at the time what it all meant.
David and his mom went to a nephrologist (kidney doctor) in New York City for a follow-up appointment, where his nephrologist took another urine sample, bloodwork, and a kidney biopsy. His nephrologist ended up doing another urine sample, bloodwork, and kidney biopsy. The doctor saw scar tissue on his kidney and thought an acute kidney failure or CKD chronic kidney disease was a possibility, but David was not formally diagnosed. The doctor prescribed medication and asked David to sit out that football season to work on his health.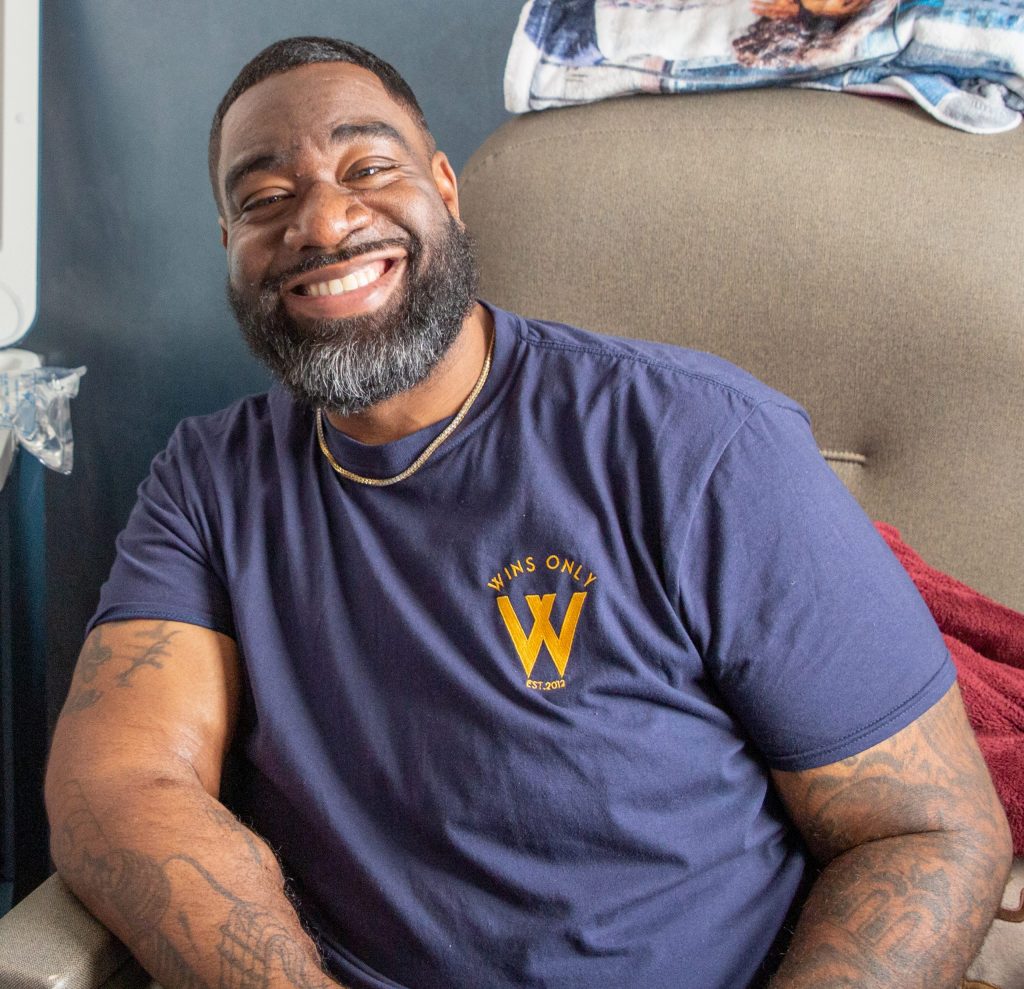 In addition to his kidney problems, David had high blood pressure and was overweight. Understanding the need to monitor his health, he agreed with his doctor and sat out that year, only to return to play football in 11th grade and part of his 12th grade year before suffering an injury that ended his football season. His dreams of playing football in college now shifted and became dreams of playing music and attending art school. He went on to attend the Art Institute of Atlanta after high school.
The college life coupled with moving out of state and away from his parents and doctors led David to develop poor health habits, including stopping the medication his kidney doctor had prescribed as he began to not feel well when taking it. Instead, he did what felt good and freeing. He enjoyed his years as a college student and made music. David graduated from the Art Institute of Atlanta with 'Best of Show' honors. After college, he landed a good internship in his field. He worked there for a while, but eventually left when he saw other interns being promoted and he was left behind.
David eventually moved back home to New Jersey and reconnected with his longtime girlfriend, Mimi. Mimi was interning with a medical practice and convinced David to be her guinea pig for the day. She brought him into the office and did a full medical workup on him. Mimi noted that David's blood pressure was very elevated. When the bloodwork results came in, Mimi called David to tell him the doctor she worked with said that he needed to go to the emergency room immediately. His creatinine levels were very high, which meant there was a problem with his kidneys. David was not expecting this news. He thought his kidney problems went away and did not realize that his possible CKD (chronic kidney disease) could progress into a bigger, more permanent issue. He agreed to go to the emergency room, where he was admitted and found out that his kidney issues had worsened. He had CKD and was finally diagnosed by his nephrologist with Focal Segmental Glomerulosclerosis (FSGS).
Normally happy and cheerful, depression set in as David feared his life and independence were over. He did not understand how this happened while he was still young and just starting out in life. He looked back and was disappointed in how little he felt he was able to accomplish before his chronic disease diagnosis.
David was working for Staples at the time delivering paper products, and his job was physically demanding. By the end of each day, he was exhausted, yet had no appetite, and food began to taste like metal. He would fall asleep mid-conversation, and one day, his sister found him passed out and was unable to wake him up. She brought him to the hospital and he was admitted. On March 16, 2007, at just 24 years old, David woke up in the hospital to see a catheter in his chest and a dialysis machine by his bedside. He was scared, terrified, and angry.
He remained in the hospital for six weeks because his creatinine levels were so high. He started hemodialysis three days a week for five hours each treatment. His mindset shifted to an unhealthy place, and he shares that he started to "write himself off." When he got out of the hospital, he continued his hemodialysis in-center. Each day he went to dialysis, he would get a hospital bracelet with his name, the date, and other details. When David got home each day, he'd immediately take it off and throw it away. After weeks of dialysis sessions, David's mom asked him what his plan was, but he did not have one. In response, she revealed that she had been saving every one of those hospital bracelets and made a chain with a poem for him. She read it to him. It was a poem that would lift David out of depression and inspire him to find out how to live again. The poem read:
The Bands Around My Neck
The bands around my neck, they are the ones my son wore around his wrist.
They represent days, they represent hours, they represent weeks.
The pain I see when we meet.
The bands around my neck, I feel strength, I feel life, I feel courage.
Know why, with this treatment, you can't be in a hurry.
The bands around my neck will continue to get longer until the Lord says no more.
And here comes Jesus to open the new door.
Don't feel sorry. Don't feel bad, Young Boss*.
Determination he has. He's got favor. He's got grace.
And, I know with God's mercy you will win this race.
Love you forever and a day.
Mother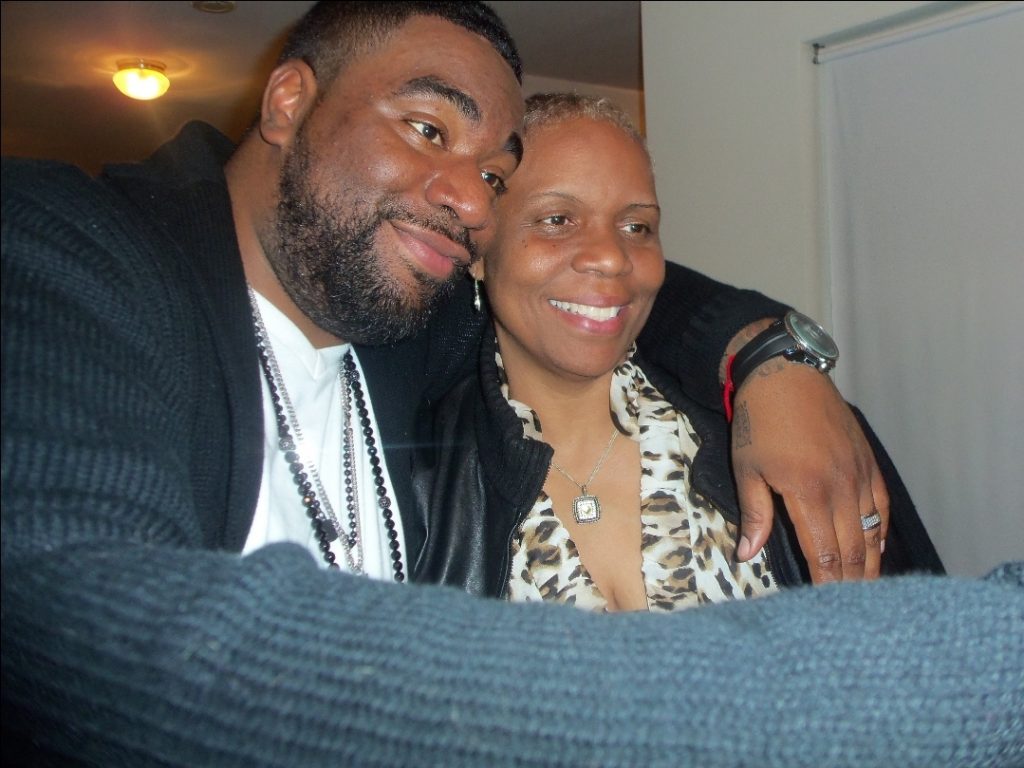 *Young Boss was David's nickname when he was younger.
David's mom, Cindia "Mama Rush," passed away in 2012 at 55 years old from hepatitis of the liver. She was also on dialysis when her organs were shutting down.
After that day, something in David changed. He wanted to live. He got back into his music and cut his hair into a mohawk. David says he started his "rebellion stage." He describes going hard into his music. He performed at hip-hop clubs, drank, and partied late into the night.
One day, the woman David routinely sat by at dialysis did not show up. David asked about her, and although the staff could not tell him what happened, they said enough that he knew she had died. This realization that the same could happen to him, coupled with his strong desire to rebel, changed his mentality.
He decided that 'living' didn't mean he had to rebel. He chose to be a more positive patient and became compliant with his healthcare routine. From that moment on, David never missed a dialysis session and dove into learning more about dialysis and the machine that was keeping him alive. He asked questions and worked with his doctors. He also continued with his passion of making music.
David's music career now started to take off. His mixtape fell into the hands of Miami rapper Pitbull. He started flying to Miami on the weekends between dialysis sessions to work with him. David was signed to Pitbull's label, and the two collaborated on songs including "Go Girl" from his Boatlift album and his biggest hit to date, "Shooting Star."
Pitbull asked David to go on a 45-city tour with him, where David would open the shows and perform some songs with Pitbull. David knew he wanted to do it, but was on dialysis and did not want his health to suffer, so he spoke to his manager and healthcare team.
David explains that when he went on dialysis, he was never told there were options. He calls it the "death, dumb, blind phase." He said he just did what he was told and did not ask many questions. But now, he needed to be mobile. He soon learned about home dialysis options and knew that was the right dialysis option to transition to. David trained for six weeks on a home dialysis machine that would allow him to perform dialysis while traveling on tour. He worked with his manager to ship his dialysis boxes to each location where he would perform. First up was California–a long way from his home in New Jersey.
The tour had 45 stops in 52 nights. David never missed a show nor a dialysis session. He describes his schedule as:
✓ Arrive at the city
✓ Dialysis
✓ See the venue, set up, and rehearse
✓ Perform as opening act
✓ Perform with Pitbull
✓ Briefly attend the offstage party
✓ Leave the party early with his crew and travel
✓ Arrive in the next city a day early
✓ Dialysis
As the tour ended, David's health was better than ever. Doing consistent home dialysis helped him get his blood pressure under control, and he had been able to lose the weight he needed to in order to get on the kidney transplant waitlist.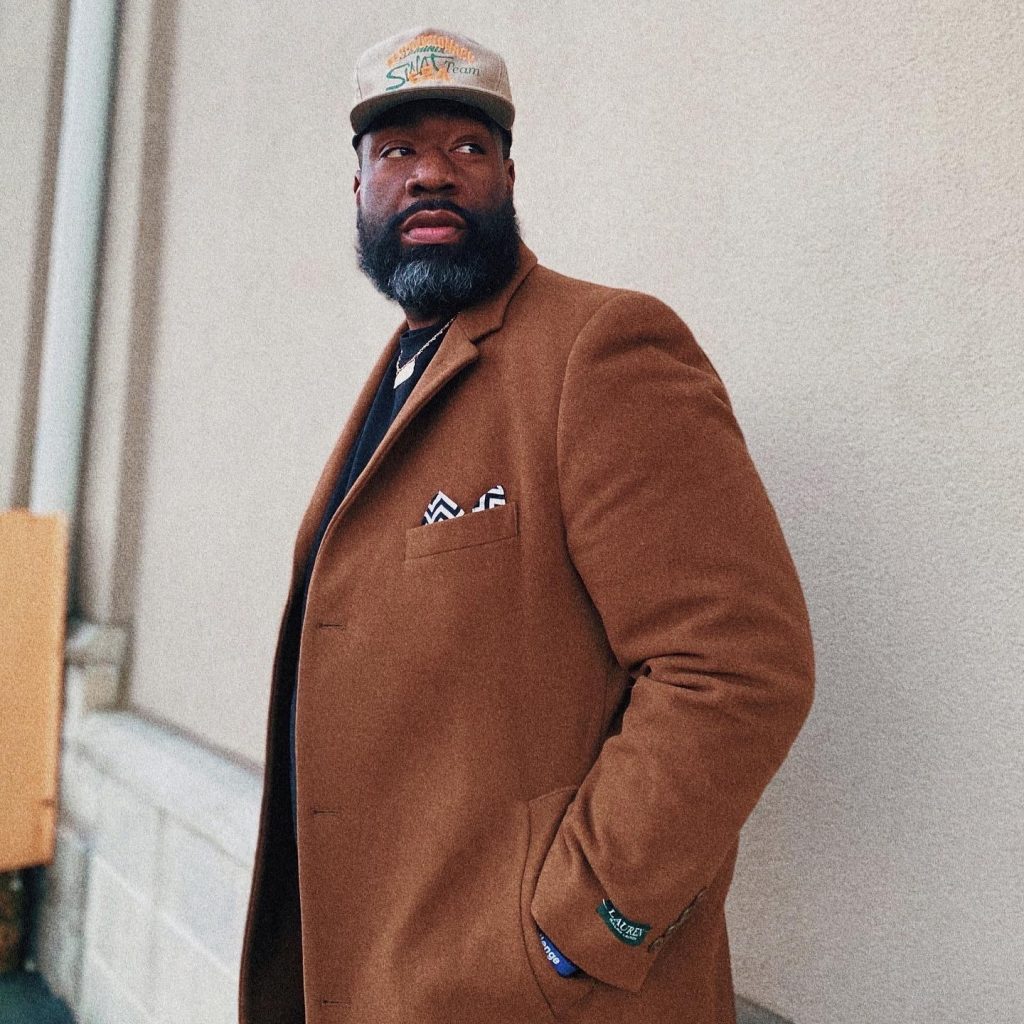 Before leaving on tour, David proposed to his longtime girlfriend, Mimi, and the two planned to marry on July 10, 2010. On July 9, 2010, David received a call that a kidney match may be available from a deceased donor. David, Mimi, and David's mother, Cindia, discussed it. Mimi was not upset about delaying the wedding for the surgery, but David ultimately decided that it did not feel right. He turned it down, and the two got married as planned. Later, he learned that the kidney was probably not the best match for him, but he was grateful he could make that decision.
Shortly after the wedding, David's older brother Dwaine decided to get tested to be a kidney donor for David. He was a perfect match. The surgery took place on November 9, 2010. David said there were over 80 people in the waiting room. They were filming a documentary at the time, and the room was filled with film crew, friends, and fans. Watch the documentary episode RUSH[ED] EPISODE 4 "THE O.R."at: https://www.youtube.com/watch?v=w8l9jwehKJs.
After marriage and a successful kidney transplant, David was on top of the world. When life felt like it could not get any better, Mimi surprised David with the news of a baby on the way. David was shocked, as he thought kids were no longer a possibility after what he had been through. On September 22, 2011, baby boy Maddex was born. Then, just 11 months later, Mimi and David had a baby girl named Jayla.
David became a stay-at-home dad and worked on his music on the side. He was busy with diapers, school drop-offs and pick-ups, homework, and other family duties and enjoyed being there for his kids and wife. But, with the busyness of life, he admits he was not always on top of taking his transplant medications on time. He felt good and did not realize the impact of taking medicine late or missing a pill.
In late 2017, David started to feel ill. He felt fatigued, his face swelled, and his socks left prints on his legs. He got a hold of his nephrologist and said he felt like he was losing his kidney. Six months later, David's transplanted kidney rejected. He returned to home dialysis.
Two years later, in 2019, while still on home dialysis, David started to feel sick again. He was throwing up and had pain in his back. His gallbladder was removed, but his health did not improve. Bloodwork and an MRI discovered that he had a tumor the size of a melon in his native kidney. He was put on medicine to shrink the tumor, but the medicine caused insomnia and made him irritable. He says the lack of sleep and his high emotions helped him make a lot of good music, but it was not good for his overall health, family, or life. The tumor did shrink, and he had surgery to remove his two native kidneys. After being removed, doctors found out that the mass on his kidney was cancer. Luckily, the cancer had not spread outside the kidney because of David's fast action in seeking medical help when he started to not feel well.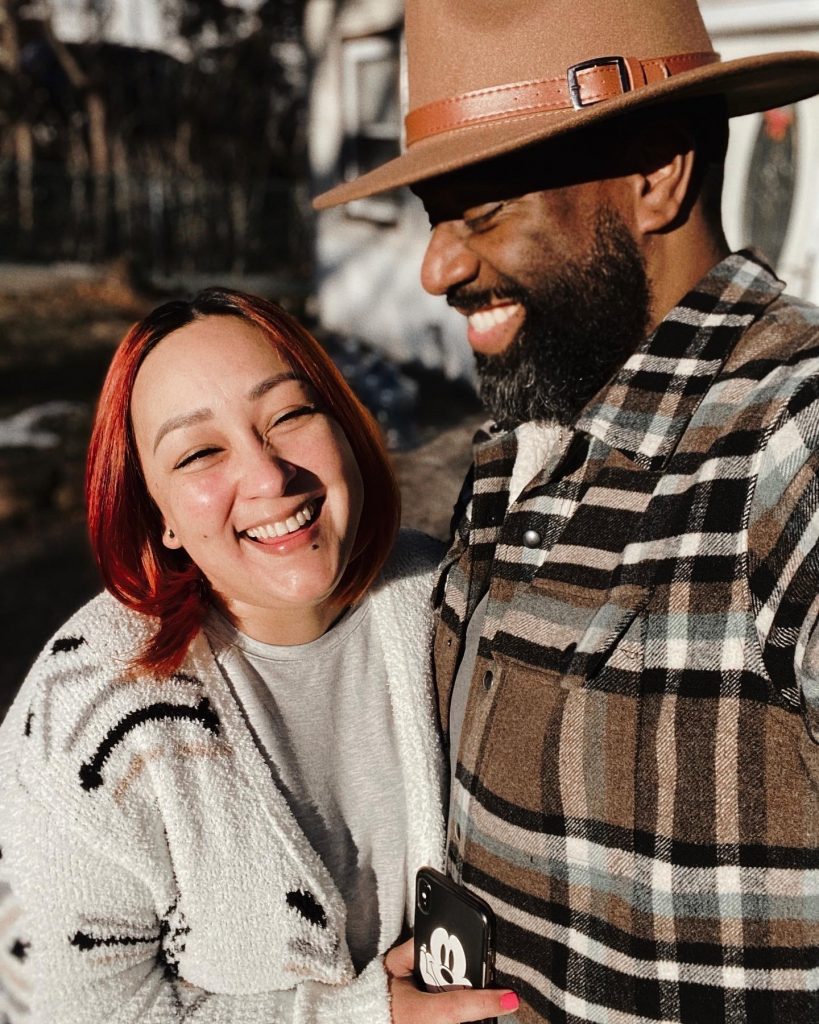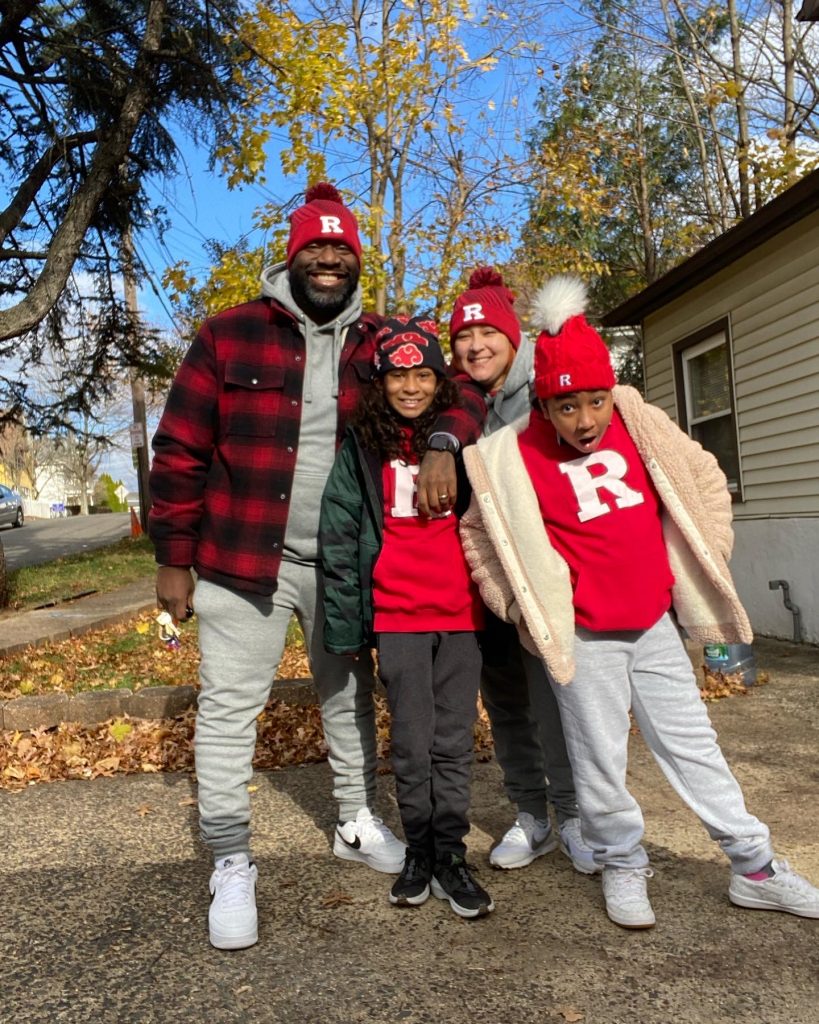 After surgery, David decided to go back to in-center hemodialysis. His home started to feel like a medical center and the boxes were taking up room that his two growing kids needed. But, when COVID-19 hit in 2020, his medical team spoke with him about returning to home dialysis. David was hesitant, but the medical team said the new home dialysis machine was easy to use. In October 2020, he decided to see a demo of the Outset's Tablo home dialysis machine. He ended up switching to that machine and a dialysis schedule of four days a week for four hours a day. He also decided to work on his kidney-friendly diet and stopped eating meat. David says a plant-based diet is better for him because of dialysis and because he no longer has a gallbladder, but there's no "one-size fits all" kidney-friendly diet, so be sure to consult with your healthcare team and a dietitian that specializes in kidney disease before making any changes.
Currently, David continues to make music, be the best dad and husband he can be, and continues with home dialysis. He is also a patient advocate and wants to be a voice for fellow patients and the kidney community. David emphasizes that you can still live on dialysis, and developed a new brand based on his mantra, "Wins Only," which he says means that life is all "Wins," even kidney disease. "You just have to look at it that way and adopt that thought," David explains. He is looking to make his mark on the world in a positive way to support those with kidney diseases. Additionally, he is working on getting back on the kidney transplant list and remains optimistic until the timing is right for him to receive a new kidney.
Follow David on social media at: Twitter/Instagram - @davidrushonline.
This article was originally published in the May/June 2022 issue of aakpRENALIFE magazine.
Article written by Deborah Pelaez, aakpRENALIFE Independent Writer