Fiona grew up in Dublin, Ireland. As a child, she often suffered from health problems that were a mystery to her doctors. Some of her symptoms included severe stomach pains, cramping, and muscle spasms. At the age of eight, she had her appendix removed in hopes it would solve some of her health issues, but unfortunately, nothing changed, and symptoms got worse.
Fiona enjoyed sports and was an avid field hockey player but was frequently injured. When Fiona noticed her swollen ankles, she thought it was from an injury, but her mom thought it was something more serious. It turned out her mom was correct. Finally, at the age of 16, after a series of blood tests and a kidney biopsy, she was diagnosed with Glomerulonephritis an auto-immune disease where the body's immune system is attacking its own tissues causing damage to the glomeruli (filters).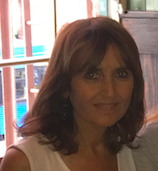 Fiona learned she would eventually need dialysis or a transplant due to kidney damage from Glomerulonephritis, and the thoughts of this terrified her. There wasn't a lot known about her condition at that time in Ireland, and she was told she might not live long; however, she still went on to attend college. She worked with her doctors to delay dialysis through medications, but she wanted to do more. After attending college, Fiona immigrated to the United States in 1985 to better her health and find alternative medicines.
Upon arriving in New York City, she discovered alternative healing and her condition stabilized for over 20 years. She worked closely with a professional healer and focused on her nutrition, (being a vegetarian most of her life helped), as well as balancing her body, mind, and spirit. Wanting to help others live healthier lives, Fiona became a Reiki Master and Polarity Therapy Practitioner.
However, in late 2007, her symptoms slowly returned and on April 1, 2008, she was diagnosed with End Stage Renal Disease and ended up in ICU at Lenox Hill Hospital. At first, Fiona felt as if all her efforts in finding alternative healing had failed. But slowly, she started to balance the realization that her new focus needed to be doing well on dialysis.
For the first few years, dialysis was very difficult for Fiona. Not only was it a strenuous procedure and process that made her physically sick, but she also felt ashamed to let people know she was a dialysis patient. She explains that people often looked horrified and shocked when she told them she was now on dialysis and would share stories of people they knew who had died while on dialysis. In addition to dealing with the physical and mental factors of dialysis, she was also assigned to an overcrowded, noisy dialysis center with overworked staff.
Eventually, dialysis became more manageable. Her center closed and she was moved to a smaller center that intentionally had a more Zen and calming atmosphere, including a waterfall feature in the lobby and calming colors on the walls. This is where Fiona still does dialysis today. The staff are kind and generous and take time to answer her questions. She does her best to be a compliant patient and understand her lab numbers and treatments.
Fiona has now been on dialysis for 15 years. She explains that she feels weak and vulnerable after every treatment and finds it hard to be around people afterwards due to heightened sensitivity to light and sound. She suffers from nausea, pounding headaches, and dialysis-related itching.
It was not until she saw AAKP's Stop the Itch campaign for National Itch Day on June 3rd that she gave much thought to her itching. "Looking at my arms now, I get self-conscious as scratching often leaves marks. I often cover up my arms and avoid wearing short sleeves, which is difficult in the summer," she said.
She previously thought her itching had to do with high phosphorus, but her phosphorus levels were always within range. In the past, she has seen a dermatologist for visible skin issues, mostly on her face, but never thought to ask her doctors about the itching on other parts of her body. She says she will now speak with her doctor about itching after learning about this condition from AAKP.
Fiona is an active AAKP Ambassador who got involved as a kidney advocate to ensure better health coverage for dialysis and transplant patients, including coverage for kidney transplant medications (immunosuppressants) and post-transplant care.
Join us on June 3rd each year for National Itch Day. Learn more about AAKP's #StopTheItch campaign and gain access to educational resources at HTTPS://BIT.LY/STOPTHEITCH.