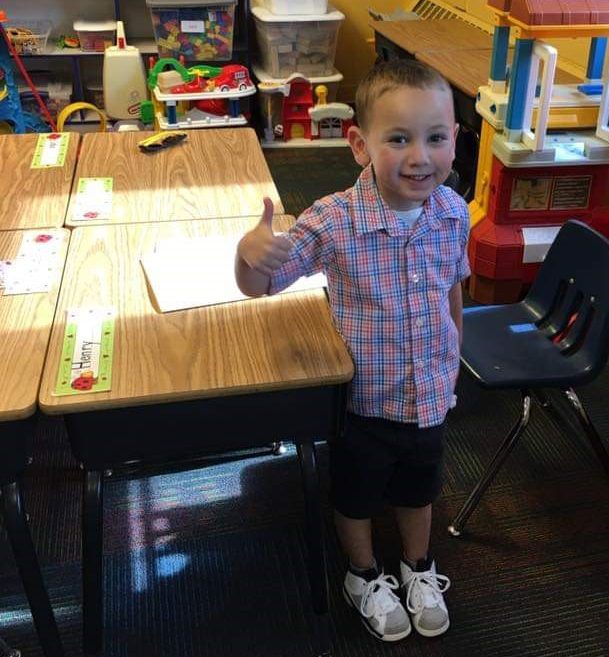 By Jim Myers, AAKP Board of Director and Ambassador
In honor of school days, we are writing today about 5-year-old Henry Whitacre and his mom, Emily. Henry received a kidney transplant at Riley's Children's Hospital in Indianapolis, Indiana on July 18th, 2018. We wanted to check in and see how Henry is doing with his first school experiences. Hopefully, we can give first time back-to-school kidney parents some helpful ideas as the school year starts.
Read the interview below.
We asked:
As a parent of a pediatric kidney kid, how are you preparing for the start of school?
Emily responded:
'We prepped for starting his first school year this summer. We talked to Henry a lot about going to school, and what it would be like. We talked A LOT about germs, and hand washing, and how important it is. We also toured several schools and talked openly with the staff to see what school might be a good fit for Henry and his needs. We started by having him evaluated in our local district to determine if he needed any special services through school (an IEP/504 plan). Henry also attended four separate therapies all summer long to help prepare him for the classroom. We talked to him about the ways that he might have some different "stuff" from kids in his class, and that it's ok for them to ask questions."
What advice do you have for other parents who are preparing for back to school?
"The best advice I can give is to be open with the staff at the school and forge a good relationship! Provide education if they need it, and be an open book regarding your kiddos' diagnoses. The more they know, the more they can help keep your kiddo healthy and in school! Also, don't be afraid to ask questions or ask about resources! Kidney kiddos can qualify for services such as speech and occupational therapy through the school via a special needs plan. We are our kid's best advocate, so don't be afraid to push for special plans if you feel your child needs one!"
Did you meet with Henry's teachers beforehand?
"Yes! We were able to meet his teacher before the school year started, as well as his principle and the school nurse. Henry's home health nurse is attending with him, so we were able to make a game plan and figure out everyone's responsibilities before that chaotic first day. It was so helpful! Plus we felt even more comfortable about him going to school. "
How has he been adjusting to school?
"Henry loves school! He is attending every day for half day. There were some tears (from both of us!) on the first day; but by the second day he was just fine and now he doesn't even like the weekends off! He is so curious about so much and his teacher works very well with him, she is so patient! "
Check out this photo of Henry on his back to school night. He looks so happy!
Thank you Emily and Henry!