By Suzanne Ruff, Living Donor, AAKP BOD and author of The Reluctant Donor
Wikipedia describes World Kidney Day as follows: "World Kidney Day (WKD) is a global health awareness campaign focusing on the importance of the kidneys and reducing the frequency and impact of kidney disease and its associated health problems worldwide.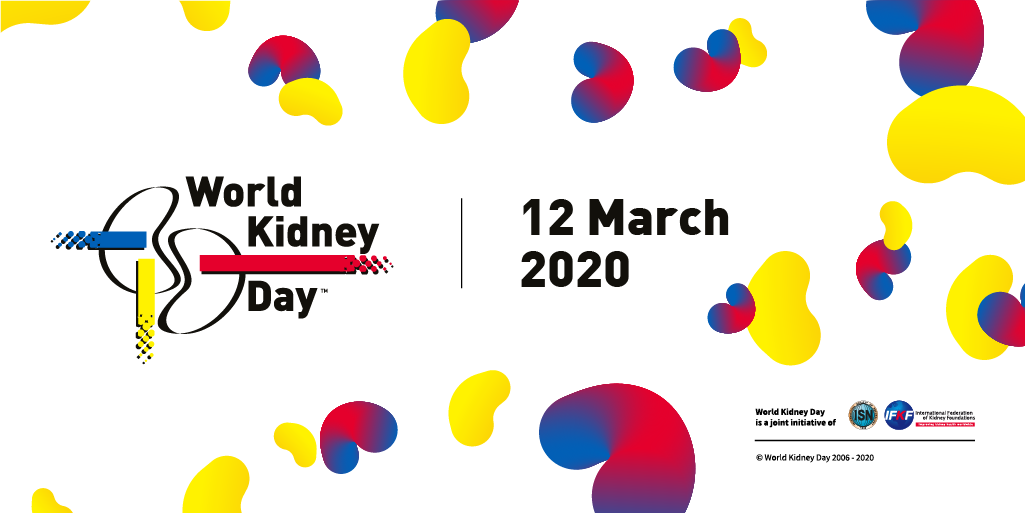 World Kidney Day is observed annually on the 2nd Thursday in March. At the start of this holiday, 66 countries observed this date in 2006. Within two years, this number rose to 88. WKD is a joint initiative of the International Society of Nephrology and the International Federation of Kidney Foundations (IFKF). This holiday was intended to raise awareness about conditions of the kidney; although many are treatable, they are a secondary medical concern of the greater population.
This year World Kidney Day continues to raise awareness of the increasing burden of kidney diseases worldwide and to strive for kidney health for everyone, everywhere. Specifically, the 2020 campaign highlights the importance of preventive interventions to avert the onset and progression of kidney disease."
Those are the facts about World Kidney Day. My personal note about World Kidney Day is to say: I love kidneys! Don't you? Kidneys are so wonderful that I would like to make a suggestion to readers of this blog. On World Kidney Day, please take a moment to stop and whisper a thank you to your kidneys.
I am not only referring to people who are battling kidney disease –I mean everyone! Focus and be grateful for what the mighty kidney does even if and especially if you are in any of the stages of kidney disease. Kidneys are small but powerful organs. Your kidney does so much work within your body – critically important work for the health of your body. Just as your heart beats to keep you alive, your kidneys filter our blood to cleanse toxins and filter waste from your body. About 52 gallons of blood are filtered through your kidneys each day. Kidneys help regulate our blood pressure and release the hormones that help make red blood cells and keep our bones healthy.
The top two reasons for kidney failure are high blood pressure and diabetes. The best way to take care of your kidneys is to ask your doctor at your annual physical (and you ARE getting an annual physical, right?) is "Doc, how are my kidneys doing?" Take responsibility for your health. Know your creatinine level, your blood pressure and glucose level Keep your eyes open about how your kidney function is doing. Kidney disease is a silent disease. We can prevent it by monitoring our blood pressure and your glucose level for any signs of diabetes.
This is great advice for anyone with or without kidney disease.
You might wonder why I am so passionate about kidneys?
My family suffers from a genetic kidney disease called polycystic kidney disease (PKD). If your parent carries the gene for PKD, you have a 50% chance of inheriting the disease. We can trace the disease back over seventy years, a timeline that shows much of the progress made in the treatment of kidney disease. Back in the 1940's my grandmother was told there was nothing that the doctors could do for her failing kidneys. No dialysis, no transplantation, nothing! I shudder to think of how sad it must've been. My mother was a teenager when her mother died of kidney failure.
Years later, my mother battled the same disease, as do both of my sisters. I am a living kidney donor to one of my sisters. My other sister received a kidney from a deceased donor. Mom, too, was given fifteen more years of life, after ten years on dialysis, by a deceased donor. That is why I am passionate about kidneys.
I like to remind people to ask their doctors how their kidneys are doing. Because if you take care of your kidneys, they will take care of you.
Visit AAKP's World Kidney Day webpage
Download and Share AAKP's Pocket Guide Managing Kidney Disease