By Barbara Wallace, Renal Dialysis Nurse, Irish Holiday Dialysis
Travel, whether for vacation or business, always seems to involve a degree of stress but there are extra considerations for kidney patients living with dialysis. Here's a checklist to help with travel planning to help things run more smoothly before you leave home, After all, vacations are supposed to be enjoyable and promote a feeling of calm serenity!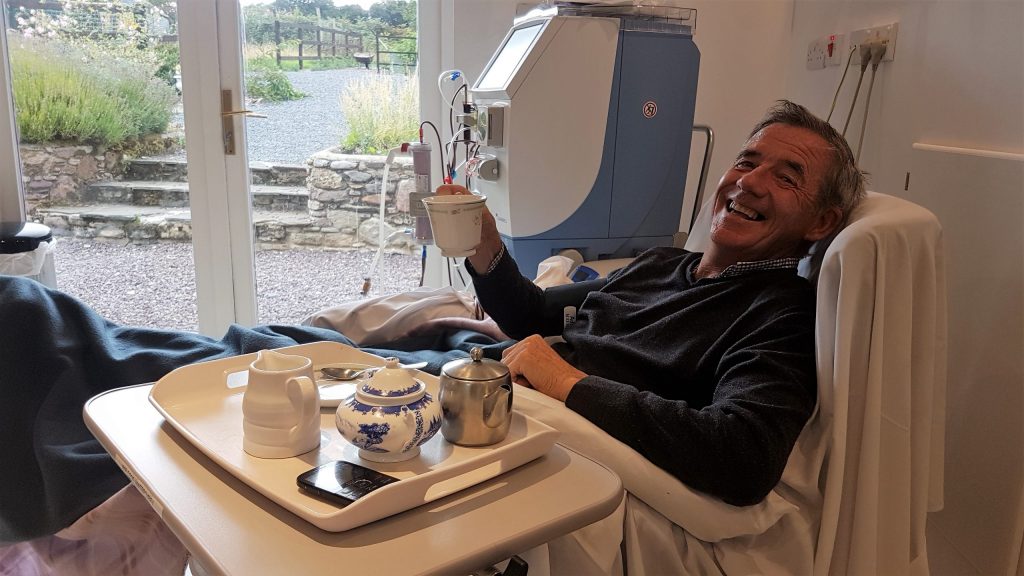 Organize your dialysis
Before you do anything, talk to your doctor and dialysis center staff about arranging treatment at your destination. It's important to do this as soon as possible as it may take many weeks to finalize and confirm, especially if your travel is international. Most centers will have a coordinator or renal social worker that helps patients specifically with travel arrangements. Working with them will help reduce stress by coordinating treatment scheduling and handling medical records transfer. If you are a home dialysis patient (peritoneal dialysis or home hemodialysis) medical supplies will need to be delivered to your destination ahead of your arrival, if in-center you will need to secure dialysis slots in a trusted center at your travel destination and fit their acceptance criteria.
Transplant List
Tell your transplant coordinator about your travel plans – depending on how far you go you may be postponed on the waiting list until after your return. Rest assure, once you return, you will be back on the list where you originally where.
Costs and Insurance
Check with your insurance provider if dialysis costs are covered while you are away. Also inquire about coverage regarding potential medical costs if you become ill while travelling internationally and need further medical care.
Plan the journey
Leave yourself extra time to get to the airport, you will need it to navigate parking and get through security checks. Stay abreast of possible delays by checking your airlines website before leaving home. If you arrive too early think of it as a bonus – more time to relax! Consider if you might need extra assistance like booking a wheelchair, distances at the airport may be very long and tiresome. If your journey includes a long drive, plan ahead for any needed rest stops to get out stretch your legs.
Pack smart
Make a list and check items off as you pack them – it's a good feeling! Bring enough medication and medical supplies to cover your entire journey. If you're traveling abroad, talk to you doctor about the possibility of bringing extra medications in the event you experience travel delays (or decided to extend your vacation!) and don't have access to a U.S. pharmacy. Hand carry essential items including medical records, contact information, and medications in case of the unexpected lost luggage or delays. You may need a letter from your doctor to travel with items such as syringes, a PD cycler, home dialysis machine or CAPD fluid exchanges. Check with the airports and airlines ahead of time to learn what's required to check medical equipment or bring it on board with you.
Dress for comfort
Comfortable shoes and clothes are essential to avoid extra stress and promote a restful journey. They will allow you to move more freely, sleep better and help combat jet lag.
Food and drink
Having a substantial kidney friendly meal before leaving home can help reduce the pressure to find food low in salt and potassium while travelling. Consider packing some food or a nutritional supplement to take on the journey; a healthy diet will give you more energy. If flying, notify the airline in advance that you have a dietary requirement. The same goes for hotels on your trip and should be noted on all relevant documents at time of booking. Diabetics should have glucose tablets or snacks on hand in case of delays to treat low blood sugar. Tell your renal dietician about your upcoming travel plans and get advice on what to avoid and enjoy if the local diet is unfamiliar.
Bring a distraction
A good book or two, music and puzzles are some great ways to help pass the time or if delays occur and will make you feel calmer.
Accommodations
Regardless of what type of accommodation you book - make sure you will be within reasonable reach of medical support in case of emergencies and your booked dialysis appointments if an in-center patient. If you will be doing home dialysis, make sure there is adequate space in your hotel room (or lodging) for supplies! It's a good idea to ask for a first-floor hotel room or one that is easily accessible if stairs or distance is a problem. Arranging accommodation near the airport will also help reduce stress on the day of travel.
Time to yourself
Travelling with others is fun but some quality time relaxing by yourself can recharge the batteries, maximize your energy levels and make sure you get the most from the experience. Enjoy your vacation adventures!
Barbara Wallace is currently a Nurse manager and co-founder of Irish Holiday Dialysis. Barbara qualified as a renal dialysis nurse in London in 1998 and has worked hands-on at the frontline of patient care. She has a wide range of experience in public, private and commercial healthcare settings and has worked in many different countries. A position as Clinical Nurse Specialist with a major dialysis equipment manufacturer saw her train both home patients and nurses to use dialysis equipment. She has a wealth of experience and knowledge in all aspects of this specialized field of nursing. In 2017, she co-founded the first-ever dedicated holiday dialysis clinic in her home country of Ireland after having identified the lack of this essential service for international holidaymakers and seeing the many positive benefits that travel and holidays can have on them.