KIDNEY KIDS ARTICLE
A Mother's Story…Worrier to Warrior
By Emily Payne
Last week we celebrated my daughters first year of life, one that we were told several times would not exist. Flashing back to the excitement of our first ultrasound and learning the sex of our baby quickly turned to disparity when I was only 20 weeks along. Her kidneys were bright and enlarged and at every appointment her amniotic fluid was slowly disappearing. Without amniotic fluid her little lungs couldn't develop and the doctors didn't even know if she would make it to delivery. My happiness of being pregnant for the first time diminished as I began dreading each day and each appointment. I lived in constant fear when I didn't feel her kick frequently.
We were advised to transfer our care to a larger hospital because they knew they were not equipped to keep our baby alive with such a severe case of autosomal recessive polycystic kidney disease (ARPKD).
My husband had just started a new job and couldn't risk asking for a day off this soon, so I travelled to The University of Michigan, two hours away without him for a second opinion. I was 35 weeks along and they quickly admitted me after finding a defect in her heart. The doctor said she was un-survivable. Three days later Rilynn was born via emergency C- Section after several attempts at inducing me. The first time I saw her was a picture my husband showed me. I heard no cries but only of my own.
The first two weeks were the hardest, we were told multiple times she wouldn't make it another night but Rilynn pushed through. She had both of her enlarged kidneys removed and began dialysis at a week old. The most important thing I learned in Rilynn's 95 day NICU stay is that you will become your baby's biggest advocate. Never lose hope because miracles like Rilynn happen every day!
When we were going through this diagnosis all I ever heard were discouraging stories and doctors stating facts that were terrifying. I wish I had someone to share with me the outcome of hope. Throughout this last year I have met so many families who have gone through almost identical situations and have overcame this disease. Yes we have had many ups and downs in this journey, but maybe this is the moment we were created for. I cannot begin to explain the changes that have taken way in my heart and mind about life. You learn to appreciate life in a different way, you find what truly matters and who will stick it through with you. Most of all you find the most priceless love you can ever imagine. I remember feeling like Rilynn and I wouldn't have that great mother/daughter bond since I couldn't hold her daily, I couldn't be with her 24/7, and because I couldn't stop the pain she experienced. I now feel like we have a stronger bond than normal and have overcome many triumphs together.
What do parents of children with kidney disease want to hear? I'm not completely sure… all I know is when I was standing in your shoes, I was overwhelmed. I wanted to know all the information but yet I didn't know what to ask. There were questions I wanted to ask, but was scared to hear the truth. I kept receiving the answers to my questions as "every case is different." I honestly hated that answer, I hated the uncertainty. We now chose to live our life one step at a time, once in awhile we get thrown a curve ball. But with prayer and faith I have finally come to a peace with this lifestyle. I know worrying won't change the outcome. I know that God knew Rilynn before she was formed in the womb. While going through this journey I read something that just clicked with me and I'll share it with you.
'Many times when God isn't changing our circumstances it's because he is mostly concerned with changing US within the circumstances. Our character, our inner strength, our integrity matters to him because they are everlasting qualities. The wisdom, the strength, and the maturity that grows within us are all the things we are going to need to sustain the calling God has on our life.'
Photo: Emily, Zack and Rilynn Payne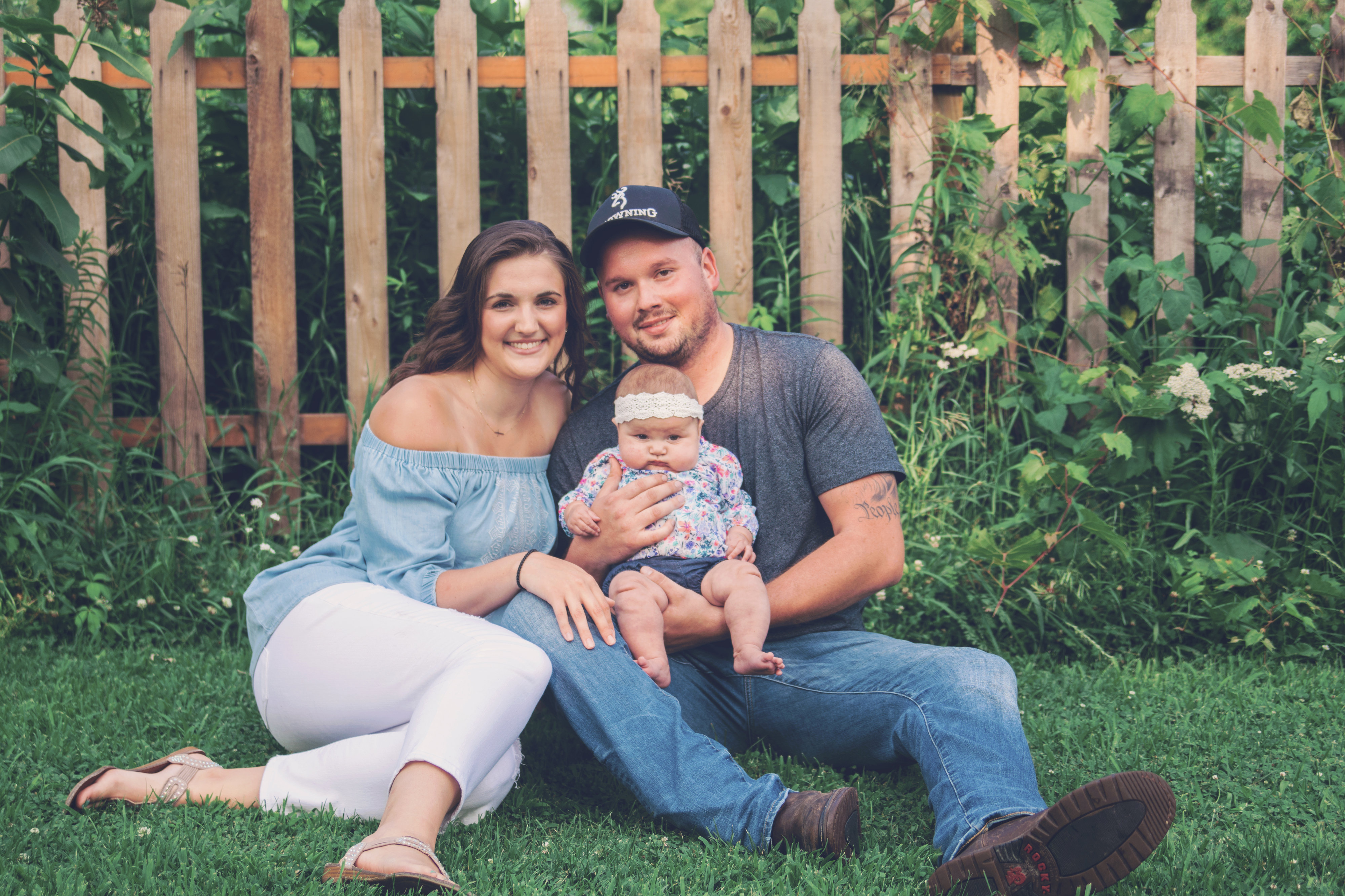 This story was originally posted in aakpRENALIFE magazine March 2018.