By Deborah Pelaez, aakpRENALIFE Independent Writer
Duane and Lisa Hawk are a fun-loving, energetic married couple from Palmerton, Pennsylvania, who were both born blind. Married now for 38 years, they met at piano tuning school in their early 20s. After falling in love and getting married, Duane and Lisa started their own piano tuning and repair business. They also had a side business providing musical entertainment; Duane plays guitar and Lisa plays piano and keyboard. They were very busy with lots of work.
As married life and their careers were just getting started, Duane was diagnosed with stage 2 kidney disease and started seeing a nephrologist. Duane says he was overweight, not eating healthy or exercising, and had high blood pressure, which he was taking medication for. High blood pressure ran in his family. In 1986, in his mid-thirties, Duane was in kidney failure and started dialysis.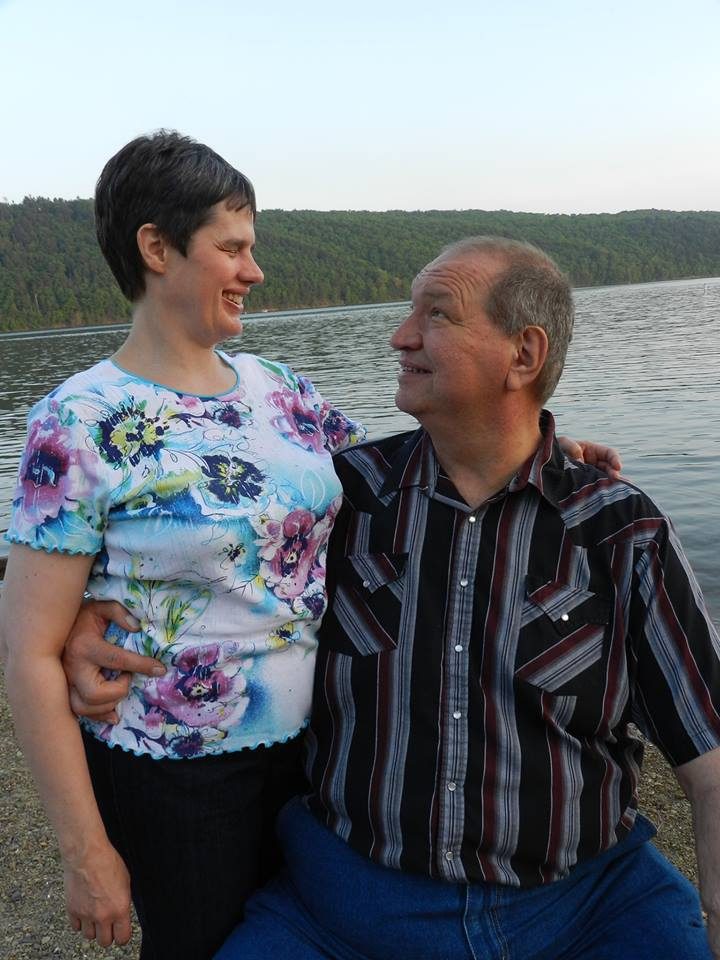 Dialysis was not easy on the young couple. The nearest dialysis center was 30 miles away from their home. Being blind, Duane and Lisa do not drive and relied on others for transportation as there was no bus system where they lived at the time. Dialysis also made Duane sick. He had to eat immediately after dialysis treatment, or he would not feel well and not be able to eat for the rest of the day.
With all this in mind, Duane and Lisa wanted to find a way to do at-home dialysis. They had to convince their healthcare team at Easton Hospital that they were capable of doing home dialysis even though they were both completely blind. The staff agreed to train them on Peritoneal Dialysis (PD) for two weeks, thinking they would fail the test. Lisa says, "We are different blind people. We are techy and hands-on. We knew we could do it." To the staff's surprise, Duane and Lisa both passed the test within one week and were permitted to do PD at home. They came up with new organization methods like using braille labels to label their dialysis boxes. They also worked with the delivery drivers to stack the boxes together in different areas of their house so that they could be labeled correctly.
Peritoneal dialysis was a much better fit for Duane and Lisa. They were able to maintain their work, have fun, and travel. In fact, they took several short trips around the area where they live with friends and family. One memorable outing was a motorcycle trip to the Harley-Davidson manufacturing plant in York, Pennsylvania. Duane and Lisa rode on the back of Lisa's sister Kathy and brother-in-law Mike's motorcycles. Duane was able to do PD on the side of the road and at the Harley-Davidson plant.
Duane did three and a half years of PD with Lisa as his caregiver. In 1994, he received his first kidney transplant from a deceased donor. His kidney lasted many years and Duane and Lisa enjoyed their life, continuing to run their piano tuning and repair business.
In 2015, Duane's transplanted kidney started to fail, and in 2016, he started dialysis again. Duane and Lisa discovered that there were now many dialysis clinics much closer to their home then there had been back in 1986. The technology had also improved. Duane was able to receive dialysis in-center just a few miles from his home. He also no longer got sick from dialysis treatments because the treatments from the newer machines were gentler on the body. He would take the bus to and from treatments with no issues.
After six years on dialysis, Duane and Lisa received a phone call in the middle of the night on August 31, 2021. Lehigh Valley Hospital called, and there was a possible kidney for Duane. He was told not to eat anything and prepare for transplant surgery. At 9 a.m., the hospital called again and told him to come in as the kidney transplant would be happening that day. On September 1, 2021, Duane received his second kidney transplant.
Duane's second kidney took a little while to "wake up" and had to be closely monitored–another challenge for Duane and Lisa. They had to devise a system to be able to measure Duane's intakes (fluids) and outputs (urine) from home. Fortunately, Duane and Lisa enjoy challenges like this and came up with a system of using a measuring tool for the intakes. Lisa's sister, Kathy, and Duane's sister, Kim, both assisted with reading his outputs, either in-person or using FaceTime.
Duane's new kidney is now functioning well. He says that he no longer has high blood pressure, eats a healthy diet, and exercises every day he can–sometimes aerobics, sometimes using a treadmill, or even apartment exercises that he has learned. He also tries to avoid crowded places or going out too much at this point due to the COVID-19 pandemic.
Duane and Lisa say they look forward to the little things such as attending church in person, eating out at restaurants, and visiting family again soon. Lisa says that their journey with kidney disease has brought them closer together and closer to God.
This article was originally published in the January/February 2022 issue of aakpRENALIFE magazine.